Posted on
Wed, Jan 25, 2012 : 5:58 a.m.
Ypsilanti advocate presents idea for $2 million addition to the Parkridge Community Center
By Tom Perkins
John Barfield envisions something much greater for the Parkridge Community Center on Ypsilanti's southside.
This month, the native Ypsilanti businessman and area resident made public his idea for a $2 million renovation and expansion that will turn the center into an African-American art museum, nonprofit headquarters and educational center.
He presented his plans to city council and said, with council's approval, construction could begin as soon as June. The city owns the property, and council would have to approve an expansion.
Barfield is owner of the Bartech Group in Livonia and grew up across the street from Parkridge. His private company generates an estimated $30 million per year in revenue.
He said he wants to share some of the success he has had with that neighborhood.
"I began to think of what we could to do to make Parkridge more than a place for kids to play games and I started thinking about an educational and cultural center," he said. "It's a very impoverished part of town … and we want to work to try to do something to uplift that community."
The center would see a 12,000 square foot expansion, of which about half would be occupied by offices for the Work Skills Corporation. Work Skills is a nonprofit with a core mission of providing employment services, though it also provides education opportunities to at-risk youths and a variety of other services.
The center would feature a museum dedicated to African-American art and named after Grand Rapids-based artist Paul Collins. That would include rotating exhibits with work from partnerships with the Charles M. Wright Museum in Detroit, the Toledo Museum of Art and Grand Rapids Art Museum among others.
The Parkridge Center also is working to establish a partnership with the Smithsonian, which Barfield said is in the process of opening its own African-American museum and is looking for partners to share its collection.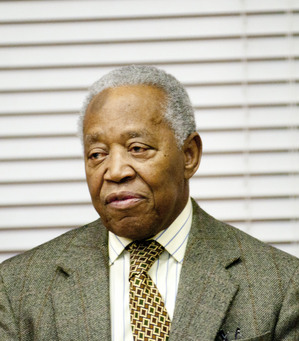 Tom Perkins | For AnnArbor.com
In addition, Barfield and his wife hold a large collection of Collins' work. The couple paid for Collins to work in Africa for a year in exchange for half the artwork he produced. The 73-piece collection is valued at $435,000, Barfield said, and Collins also is donating work to the museum.
"An art collection like this is a magnetic thing," Barfield said. "It brings people and opportunities to the community that might not otherwise come. It will be world class."
The building will also include an educational center and performing arts centers, Barfield said, and will be transformed into a modern structure. He said he is also considering a large greenhouse where kids can learn to grow food.
"We want to make it something that will make people stop and stare when they drive by," he said. "We want to create a national model that demonstrates what people in depressed communities might be able to do to to lift themselves up by the bootstraps."
Beyond the building, plans call for more hardwood trees in the adjacent park and trees that provide a canopy.
So far, Barfield has given a gift of $200,000, which Collins and Work Skills CEO Rod Johnson have matched, providing the project with a start of $600,000.
The remaining estimated $1.4 million could be raised through a number channels, Barfield said. Bartech manages temporary work forces for large corporations such as Verizon, General Motors and DTE Energy. Barfield is well-connected in the corporate world, and he said he is confident he could raise the remaining money through individual donations or donations from corporate foundations, for example.
"We will demonstrate to them the need for this community and ask them to help us complete the project," Barfield said. "The strength of our own financial commitment will make it easier to raise the funds."
Barfield said the center would expand east where two private residences currently stand. He said neighbors have agreed to sell their properties, and Barfield is asking the city to demolish and clear the properties.
Ypsilanti Mayor Paul Schreiber said Barfield has previously asked to expand the center on two separate occasions, but had always wanted to expand into the park. That prevented plans from moving forward.
Schreiber said the presentation was the first council or city staff had heard of the newest idea. He said there are still zoning considerations, and he would like to see the city's Parks and Recreation Commission involved, but said he wants to see Parkridge improved.
"I think turning it into an art museum is an interesting idea," Schreiber said. "I appreciate Mr. Barfield's interest in investing in the spot where he grew up, and hopefully in the end we can up with something everybody is excited about and will be an additional attraction for Ypsilanti."