Posted on
Sat, Nov 24, 2012 : 5:57 a.m.
Ypsilanti business owners hope for Small Business Saturday boost
By Katrease Stafford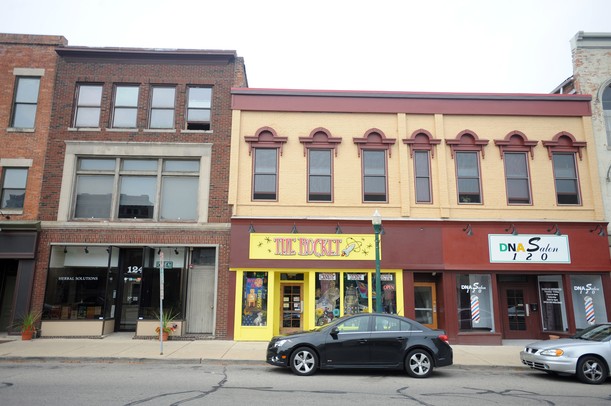 Angela Cesere | AnnArbor.com
While the big box retailers were prepping for Black Friday, local businesses were getting ready for their big day as well. Small Business Saturday takes place Nov. 24 and encourages the patronage of independent stores to stimulate the local economy.
Ypsilanti business owners say they typically see sizable crowds on the day.
Ypsilanti Downtown Development Authority Executive Director Tim Colbeck said he supports the event because a vast number of employers in the country are small businesses that create economic activity.
"There's a statistic that I've seen that says spending a dollar at a chain as opposed to a local store equates to 27 cents of a dollar staying local," Colbeck said. " Whereas, if you shop local, 72 cents stays local because it goes into taxes and salaries of those who are working local. It's just a better economic generator and it supports the local entrepreneurs."
Small Business Saturday was created by American Express, to put the spotlight on independent businesses and highlight the qualities those stores have that would draw more shoppers in.
MLive.com reports that an estimated 147 million Americans will shop this long holiday weekend, which is a 3.3 percent decline over 2011.
David Heikkinen, president of the Downtown Association of Ypsilanti and owner of Heikk's Decorated Apparel Studio in Ypsilanti at 133 W. Michigan Ave., said he believes a number of businesses in the area will be very active this Saturday.
"We have some great shopping down here and it's fun shopping," Heikkinen said. "These local businesses work hard and put so much of their entire being into their businesses. They help make downtown what it is. It's so much more unique than going to a mall."
Eli Morrissey, co-owner of The Rocket at 122 W. Michigan Ave., said he plans to offer American Express customers 20 percent off of their purchases that day and some "treats" will be available as well. Morrissey said Small Business Saturday is important for many reasons.
"Sometimes small businesses and retailers are overlooked during the holiday season because a lot of the big box stores have good advertisement," Morrissey said. "It kind of highlights that there are indeed other places to go and reminds people that there are alternatives."
Salt City Antiques owner Carol McEachran said she will try to offer some new products this Saturday. Salt City is located at 115 W. Michigan Ave.
"I plan on being open and I plan on being busy," McEachran said. "People find my shop fun and exciting because it's a change from the typical antique."
McEachran said in the past, she has seen an increase in business on Small Business Saturday.
"There are people that live in the community and they do come out," McEachran said. "They would rather come to the small businesses versus the mall. ... We count on the local support."
Katrease Stafford covers Ypsilanti for AnnArbor.com.Reach her at katreasestafford@annarbor.com or 734-623-2548 and follow her on twitter.