Posted on
Fri, Jan 6, 2012 : 5:58 a.m.
Ypsilanti Charter Commission to hold final meeting on non-partisan election proposal, other changes
By Tom Perkins
Ypsilanti residents will have one last chance to weigh in on proposed non-partisan elections and other changes to the city's charter.
The Ypsilanti Charter Commission is planning to hold a public meeting to receive input on its proposed changes. No date is set, but it will happen in January, Commission Chair Kim Porter-Hoppe said.
The commission has been meeting for more than a year and is proposing mostly "housekeeping changes" and non-controversial updates to the charter. But in December, the nine-member commission voted 6-2 to propose non-partisan elections.
The commission is made up of four Republicans, four Democrats and an independent.
Independent former Mayor Cheryl Farmer, who helped craft the current charter, and Democrat John Gwalas were the lone votes against the proposed change. Democrat William Fennel was not present. Democrats Robert Doyle and James Hawkins joined Republicans Karen Quinlan-Vlavo, James Fink, Peter Fletcher and Porter-Hoppe in voting for proposing non-partisan elections.
Ypsilanti, which officials estimate is more than two-thirds Democratic, currently has partisan elections and primaries.
City Council has expressed its unanimous opposition to the change and passed a resolution recommending that the Charter Commission hold a public hearing to discuss non-partisan elections.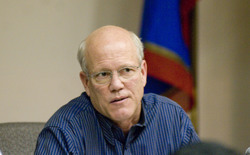 Tom Perkins | For AnnArbor.com
Mayor
Paul Schreiber
previously said he feared the entire charter revision could fail because of the issue and other council members said it appeared to be a way for Republicans to improve their chances of getting into office by hiding their party affiliations.
Porter-Hoppe said she didn't believe voters would turn down the revision just because of proposed non-partisan elections.
"I would like to think that wouldn't be the only reason someone would say 'No'," she said.
Council member Brian Robb said he would have liked to have seen other changes, such as allowing council members to serve on boards and commissions or having the city attorney report directly to council instead of the city manager.
"I really think the Charter Commission wasted a big opportunity to make impactful changes and fix the inefficiencies in the charter," Robb said. "They should have been focusing on making changes like allowing council members to serve on committees — like most municipalities — but chose to spend their time immersed in meaningless politicking."
In the November 2010 elections, Ypsilanti residents voted 2,083 to 1,985 to establish a charter commission for a general rewrite of the city's charter. The charter was rewritten in 1994, and, per the charter, the question of whether it should be revised must be put in front of voters every 16 years.
Several commissioners said at the time that they didn't feel there needed to be any major changes to the charter, though most agreed that changing to non-partisan elections is a major proposal.
But Porter-Hoppe said there was bi-partisan agreement on the proposal and she didn't believe there was originally any controversy around it.
"Just because AnnArbor.com writes about it — that's what makes it controversial," she said.
Porter-Hoppe said voters shouldn't make assumptions based on party identification.
"It is up to the voter to find out what each candidate's beliefs are," she said. "Just because I'm left-handed doesn't mean I do everything left-handed.
"Anytime that you assume I feel a certain way without finding out who I am or what I'm about — no matter whatever side of the aisle I'm on —it's like wearing blinders."
Language must be submitted to the State's Attorney General's Office for approval, and City Clerk Frances McMullan said she expects that process to take up to four months.
Porter-Hoppe said other proposed changes include adjustments to language to bring the charter in line with state language and laws, and some adjustments that bring charter into line with technological advances.
She said all the meetings so far have been open and public.
"If (residents) vote it down, then we'll get back together and put something in front of voters they can be most happy with," Porter-Hoppe said.