Posted on
Fri, Nov 9, 2012 : 5 p.m.
Ypsilanti charter revision rejection stands after counting of misplaced absentee ballots
By Tom Perkins
A vote to reject a charter revision in Ypsilanti has been upheld after overlooked absentee ballots were found and counted Friday.
Washtenaw County Elections Director Ed Golembiewski, said Ypsilanti City Clerk Frances McMullan found 86 absentee ballots in a desk drawer that had not been counted.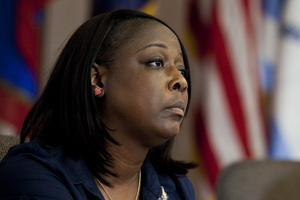 That temporarily left the result of the charter revision vote in question because it was defeated by 14 votes with 2,983 people voting no and 2,969 voting yes.
With the new ballots counted, the unofficial results from the Washtenaw County Clerk's Office are 3,016 no votes to 2,994 yes. The found ballots also changed vote totals in other races that weren't as close.
"The new results show the charter question still failed," Golembiewski said.
McMullan couldn't be reached immediately for comment.
Golembiewski said McMullan and four election inspectors counted the new ballots under the supervision of the Washtenaw County Board of Canvassers.
The proposed charter revision ballot question read:
• Shall the City of Ypsilanti Home Rule Charter, proposed by the Ypsilanti Charter Revision Commission be adopted?"
The most controversial proposed change in the revision was a switch from partisan to non-partisan elections.
Other proposed changes include:
Addition of a provision prohibiting council from increasing its compensation by more than the rate of inflation.
Elimination of a provision placing a charter revision question in front of voters every 16 years.
Requiring the city clerk to report to the city manager instead of City Council.
The charter commission that was elected to develop the new charter could call for a recount. If the charter revision still fails, the commission could meet to make changes to the proposed charter and put it back before voters.