Posted on
Wed, Jun 19, 2013 : 5:56 a.m.
Ypsilanti City Council approves AATA membership
By Tom Perkins
Ypsilanti is one step closer to joining the Ann Arbor Transportation Authority.
On Tuesday, the City Council voted unanimously to approve an amendment to the authority's articles of incorporation that would make it part of the organization.
The Ann Arbor City Council recently approved the amendment and the AATA board will vote on it at its meeting on Thursday.
The authority is being renamed the Ann Arbor Area Transportation Authority — or AAATA.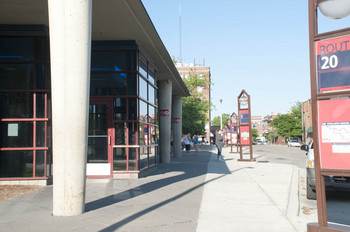 Tom Perkins | For AnnArbor.com
"This is a big deal," said Council Member Pete Murdock. "When you think about how long there has been an effort to regionalize the transportation system in Washtenaw County, it goes back quite a ways.
"I'm really pleased that we've reached this stage in the development of (the AATA)."
The most significant benefit to Ypsilanti will be a voice on the AATA board. Ypsilanti will now have a seat and a vote, and the city of Ann Arbor will receive another seat as part of the change. That will expand the board from seven to nine seats.
The Ypsilanti representative will be appointed by the mayor with approval from the city council.
It's not yet clear how the new arrangement will affect what the city of Ypsilanti pays into the system. The city currently contracts for AATA services through a purchase-of-service agreement.
Ypsilanti voters approved a 0.9789 transit charter millage by a 3-1 margin in 2010. That millage generated $308,000 in fiscal year 2013 and is projected to generate $278,000 in fiscal year 2014.
"A contract will be negotiated between the city and authority for our contribution to the system," City Attorney John Barr told city council.
The changes will not directly impact riders or routes immediately, but Murdock said it gives the overall system more cohesion. The system's busiest routes are between Ypsilanti and Ann Arbor, and Murdock highlighted that the Ypsilanti routes generate significant revenue for the authority.
"If they or we want to expand services in the area, the AATA will probably be more willing to go for some of its own funding beyond what's there now," Murdock said.
He added that it creates a framework for other municipalities join the authority.
"This is a huge step forward," Ypsilanti Mayor Paul Schreiber said.