Posted on
Wed, Aug 21, 2013 : 11:26 a.m.
Ypsilanti City Council approves resolution asking state to repeal 'Stand Your Ground' law
By Tom Perkins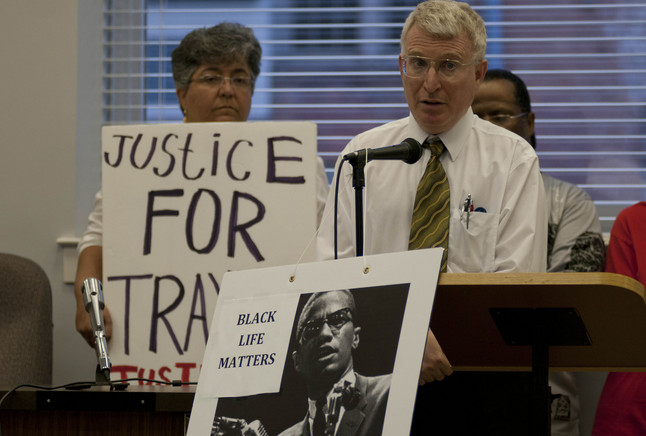 Tom Perkins | For AnnArbor.com
At Tuesday's regular Ypsilanti City Council meeting, Council Member Ricky Jefferson recalled a confrontation in which he found himself "looking down a barrel of a gun" belonging to a man whose car had just been vandalized.
Jefferson said he was minding his own business and walking over to his sister's house in Ypsilanti Township, but the man with the gun assumed Jefferson was responsible for the vandalism.
The man held Jefferson there until police came, and he was detained for several hours until it was found his finger prints didn't match those on the car.
Jefferson said he is fully in support of residents' right to defend themselves, but said that incident haunts him and forced him to reconsider his initial support Michigan's stand your ground law.
Jefferson said he could have easily been shot and those pulling trigger could have claimed he was a threat.
"I'm also a person who believes in the right to protect yourself from great bodily harm if approached by someone, but since this law was passed in 2006 it must be reviewed ... because of tragic abuses," he said.
Jefferson related his story minutes prior to the Ypsilanti City Council approving a resolution asking the state legislature to repeal Michigan's Self Defense Act of 2006, which is similar to Folrida's "stand your ground law", and Public Act 319 of 1990.
He questioned whether someone involved in the heat of a confrontation has the ability to determine what is a true threat to one's life. And he added the law puts jurors in a tough position.
"It also gives opportunity for people who have malice in their heart," Jefferson said.
The council approved the measure by a 6-1 vote.
Council Member Lois Richardson brought the resolution to council with Jefferson.
Tom Perkins | For AnnArbor.com
She said the law is a race issue and the city needs to begin having a conversation about it.
"We have to deal with underlying racism in this city, and if we don't it's going to keep us from being the great city we can be," she said.
The resolution cited a Texas A&M study that found states with stand your ground laws "saw no drop in robberies, burglaries and aggravated assaults, and an increase in murders."
It also cited a study that found white-on-black shootings were more likely to be justified than black-on-white shootings.
It further reads that stand your ground laws "threaten to lead to unnecessary use of deadly force by eliminating the common law duty to retreat and break off a confrontation where that can be accomplished with reasonable safety."
The resolution also highlighted a Tampa Bay Times review that found that of the 192 times there was a death and the stand your ground law was used to free the killer in Florida, the victim was unarmed 70 percent of the time.
Council Member Brian Robb voted against the resolution. He said he didn't like that it also called for the repeal of Public Act 319 of 1990, which prohibits local governments from imposing its own firearms restrictions.
He also questioned why the city was voting on a verbatim copy of a resolution the Ann Arbor City Council passed. He added that he was voting against the resolution for those reasons even if the vote wasn't "politically expedient."
Mayor Paul Schreiber, who is part of the Mayors Against Illegal Guns coalition, said he believes there are too many guns on the street and said Jefferson's story illustrate some of the issues with the stand your ground law.
Several residents spoke in support of the resolution.
"What we are here to do is urge you to support us as we go from one municipality to another as we seek support to repeal the stand your ground law," said Lefiest Galimore, who was with a group of supporters mostly from Ann Arbor. They were also at a recent Ann Arbor City Council meeting where that government approved the same resolution.
"It's a draconian law that needs to be repealed. We don't need to lose a young person to anyone's imagination about what could happen," Galimore said.
Ypsilanti resident Stephen Taylor said he had been threatened before and was safer for possessing a firearm.
"I say to 'Shame on you' for attempting to limit or eliminate my right to self-defense," Taylor said before threatening to work to unseat any council member supporting the resolution.
Council Member Dan Vogt said he was disturbed by the lack of rationality and "negative, unintended consequences" of the Michigan Self Defense Act of 2006.
"There is a complete irrationality to changing the well-established, well-tested rule that we used to have that the stand your ground law overruled," Vogt said. "For centuries we had legal tests that were reasonable and rational that allowed self defense for people who legitimately needed self defense."