Posted on
Wed, Oct 12, 2011 : 5:58 a.m.
Ypsilanti City Council considers going to voters for income tax and Water Street millage
By Tom Perkins
The Ypsilanti City Council took a first step toward putting a new income tax proposal in front of voters. The move comes as it tries to close a projected $10.69 million budget shortfall.
Council unanimously agreed to direct staff to update a report used from a previous income tax campaign that failed in 2007. Council members also said they were in favor of considering putting a Water Street debt retirement millage in front of voters and discussing cost control measures.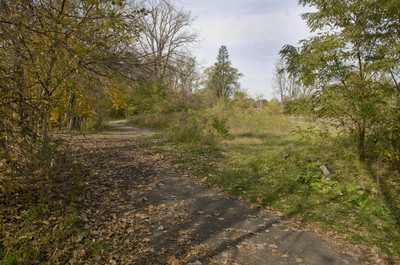 Tom Perkins | For AnnArbor.com
No solid timeframes were provided on when the proposals would be in front of voters.
Without any cuts or new revenues, the city faces a projected $10.69 million budget shortfall by the end of fiscal year 2017. On Tuesday, Council concluded the last of three budgetary meetings intended to outline how to address the looming issues, though more meetings may be set up to discuss the options.
The combined revenue generated from new taxes would not entirely solve Ypsilanti's structural budget deficit. The city has $9 million in reserves, which are projected to be depleted by fiscal year 2015. If only one tax was approved, the city would remain solvent for another one to two years.
If both are approved, the city is projected still to have $4.09 million by the end of fiscal year 2017, though it would eventually face a deficit beyond then. Projections only went out five years.
"To state the obvious, (the city) still ends up in a deficit anyway, so none of these are the final solution," Council member Dan Vogt said.
Without any changes, officials say, a take over by a state financial emergency manager is likely.
Among the main financial challenges facing the city is a decrease in property tax revenue. It dropped by $500,000 in 2010, and is projected to decrease by $3.5 million between 2010 and 2017. Additionally, the state legislature's proposal to eliminate personal property taxes is expected to cost the city $400,000.
Gov. Rick Snyder's cuts to state shared revenue already mean a loss of $400,000, and the city is projecting those revenues to drop by 25 percent annually.
The city is also paying $30 million in Water Street bond debt and recently made its first $472,000 payment. It must continue to make payments through 2031,and the amounts will grow to $1.3 million annually by 2013.
The projections also include an assumed 15 percent annual health care cost increase and a sharp rise in the police and fire pension millage.
To address the deficit solely through cutting employees, the city would need to eliminate 41 general fund workers. That would leave Ypsilanti with 32 employees, including city hall, police and fire.
Council members say that would leave Ypsilanti in shambles and is why they are exploring revenue options. State law allows up to a 1 percent income tax on residents and corporations and half of that for non-residents. Koryzno said the tax could generate $2 million, but, after questions from Council, said the study would need to be completed to determine a more concrete estimate.
Mayor Paul Schreiber, along with Council Members Brian Robb and Lois Richardson, were serving during the 2007 income tax campaign. The proposal was defeated by a margin of 2 to 1, but he said he believed the idea had a better chance of gaining voter approval in the coming year because the city has no room for more expenditure cuts and he feels voters understand the situation.
He also said residents are more aware of local governments' strife due to cuts passed down from the federal and state level.
"There's nowhere to go when you get to the local level, and I think people understand that," he said.
No direction was given to staff on the proposed Water Street debt service retirement millage, though all council members agreed it was worth exploring. It would raise $1.3 million in fiscal year 2013 and $6.7 million through 2017. That would leave the city with $24 million in debt to pay through 2031 if no new development occurred on the property. Council then would have several options on what do with the millage, which could extend for the life of the bond.
The millage would likely be set at 5.1 mills in 2012 and is projected to rise to 5.9 mills by 2017. A house with a taxable value of $49,340 would pay an additional $248 annually in fiscal year 2013, though Koryzno noted that is the worst-case scenario. Robb was most vocal in looking at cuts or controlling fixed costs built into the projections. He said such measures were necessary if council was going to ask voters to pay more taxes.
"I need to be able to go back to the people and say 'These are the things we are going to do to control costs,'" he said. "We've got to be able to say we are reducing fixed-costs somehow. That's how the schools did it."
Among the costs he mentioned was the assumed annual 15 percent increase in health care. He said that even cutting that increase by 5 percent would save the city $1 million over five years.
Murdock supported looking into the new revenue sources, but also said legacy and health insurance costs were a significant part of the city's problems and must be addressed.
"That has to be part of the mix," he said. "That's part of the reason for our sustainability issues and our structural problems. To avoid (legacy and health costs) doesn't end them."
Council Member Ricky Jefferson said he supported exploring the income tax without lowering the property tax rate, as council has the option to do. He also said he was hesitant to cut staff any further.
"There's really not much to do, but if we don't do anything there are going to be terrible repercussions," he said. "It's a lot to ask our residents to make up for … but I'm willing to look at the income tax as being one way of dealing with this."
Vogt also voiced concerns over more cuts and said he supported a "broad range of taxes" at lower levels to avoid a heavy burden on one source.
"Looking at the city's history of cuts and cuts we have planned recently, I don't see having an operating city if we cut more," he said.
Council Member Mike Bodary echoed Vogt.
"I believe we are at a basic maintenance level in the city, and if we cut further, then we run the risk of Ypsilanti no longer being a safe city," he said.
Koryzno also discussed the possibility of implementing a stormwater utility fee.
The city can determine how much of a property is not permeable and apply a fee to it that would be used for the city's street fund for making road repairs. Koryzno said there are several formulas that could be used to determine the fee, and it applies to properties that are and are not on the city's tax roll. Koryzno said he thought the fee could be enacted with council vote and wouldn't need to be placed on the ballot.
Robb estimated the fee would generate around $150,000, but Koryzno declined to speculate.