Posted on
Wed, Nov 2, 2011 : 5:58 a.m.
Ypsilanti City Council floats drastic ideas for solving budget crisis
By Tom Perkins
The Ypsilanti City Council instructed city staff to begin investigating a wide range of solutions to its projected $10.69 million budget shortfall.
During a "free form" discussion at a special goal-setting meeting on Tuesday night, council members each offered ideas and thoughts on measures to close the gap.
Highlighting the gravity of situation, previously unthinkable ideas - such as merging with the township or loosening firefighter safety guidelines - were discussed.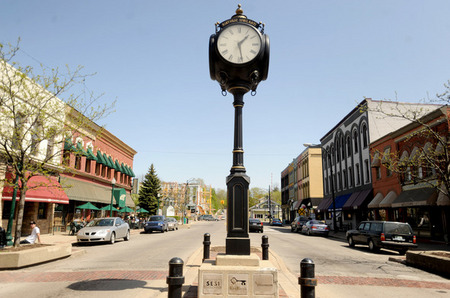 So far dialogue has largely centered around generating revenue through a Water Street debt retirement millage and an income tax. Both issues would have to go in front of voters.
Council members said some of the ideas discussed on Tuesday, including merging with the township, were highly unlikely, but they wanted to explore all options before asking voters to approve up to two tax increases.
The combined revenue generated from new taxes would likely not entirely solve Ypsilanti's structural budget deficit. The city has $9 million in reserves, which are projected to be depleted by fiscal year 2015. If only one tax was approved, the city would remain solvent for another one to two years.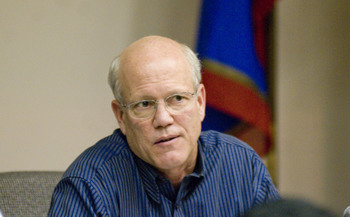 Tom Perkins | For AnnArbor.com
The city is paying $30 million in Water Street bond debt and recently made its first $472,000 payment. It must continue to make annual payments of $1.3 million through 2031.
City Manager Ed Koryzno concluded the discussion by summarizing short- and long-term strategies the city will start exploring.
Staff will begin gathering information on consolidating with the township, seek an agency to update an income tax study from the failed 2007 income tax campaign, consider how to proceed with a Water Street debt retirement millage, explore the possibility of selling park land or community facilities like the Frieghthouse in Depot Town and explore how a stormwater utility fee would be structured.
Staff will also begin to looking into short-term solutions. That will include considering abandoning of the fire department's "two-in and two-out" rule, exploring how to control rising health care costs, gathering information on creating special assessment districts for street lighting, looking for $500,000 in cuts to the operational costs for the 2013 budget and figuring out how to educate the public and make residents aware of the situation's seriousness.
"Whether (the ideas) are possible or not, let's at least look into them," Council Member Mike Bodary said, adding that he feels many residents aren't aware of how bleak the financial picture is.
"They don't know how deep this pothole in the road is. If they did, they would be totally shocked," he said.
The "two-in and two-out" rule is a national industry safety standard that requires two firefighters to remain outside of a burning building while two go inside. But it means the department must maintain higher staffing levels, and eliminating the rule could reduce costs.
Council Member Lois Richardson also suggested the city consider a public safety department instead of a separate fire and police department.
Council Member Brian Robb said he wanted to see staff reduce the city's operating costs from $6.3 million to $5.7 million. He also suggested looking into a special assessment district around street lighting throughout the city.
"Those are good numbers," he said. "Not just to balance the budget but to prove to voters that we are doing every extreme thing short of closing of the city."
Robb also continued pushing for a reduction in projected health care cost increases. The city projections have health care increasing at 15 percent annually, and Robb said Council Member Pete Murdock estimated the city would save $1 million through 2017 if costs only increased by 5 percent.
Koryzno said that would be an issue to be discussed in collective bargaining, and Murdock said he wanted to start negotiating with the unions and have a resolution by May.
A stormwater utility fee has also been regularly discussed in recent months. The city can determine how much of a property is not permeable and apply a fee to it that would be used for the city's street fund for making road repairs. One of several formulas could be used to determine the fee, and it also applies to properties not on the city's tax roll. The fee could be enacted with council vote.
Although staff was asked to look into what kind of revenue selling the Senior Center, Freighthouse or parks could generate, council members made clear they weren't suggesting it as a good way out of crisis, but more for informational purposes.
Staff was also directed to begin looking into how to put the Water Street debt retirement millage in front voters and send out an request for proposals for a company to conduct the income tax study.
Mayor Paul Schreiber said he hasn't spoken with many people who opposed the income tax proposal in 2007 and now are supporting it, despite the dire situation.
"Many of them sill don't support it, but they don't have any answers for us either," he said.