Posted on
Sat, Mar 24, 2012 : 5:57 a.m.
Ypsilanti City Council investigating city processes after Housing Commission employee's jailing
By Tom Perkins
The Ypsilanti City Council is asking the Ypsilanti Housing Commission for several documents that will reveal whether or not a Housing Commission employee was paid while he was jailed and on leave for more than a month in 2009.
Eric Temple, an administrative specialist with the Housing Commission, was jailed in Texas in 2009 for violating the terms of his probation. He was convicted of felonious theft in 2004 for writing a bad check for a new car in his former hometown of Missouri City, Texas.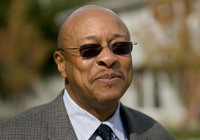 Tom Perkins | For AnnArbor.com
Council members say they want to know if Temple was paid while he was in jail and on a leave of absence for around 45 days. They also want to know who was aware Temple was on a leave of absence and they have expressed concerns over how the situation was handled.
Among other items, a council resolution asks for Temple's timesheets from March 1, 2009 through July 31, 2009 and the Housing Commissions' check registry for 2009. Council also wants the results of a Housing Commission Board of Commissioners investigation into the matter, and it is asking for the documents by April 1.
The resolution passed 5-1, with Mayor Paul Schreiber voting against it.
Housing Commission administration and its board of commissioners have so far refused to answer City Council's or AnnArbor.com's questions about the matter.
Several council members underscored that the resolution has nothing to do with Temple being a convicted felon while employed with the Housing Commission. Council recently approved removing a box from city applications that asked applicants about felony convictions.
Council members said that they were taking action because of the Housing Commission's continued culture of secrecy and refusal to answer inquiries about whether Temple was on the payroll while jailed.
They took a break to carefully craft a resolution that did not imply that they were asking for documents because the Housing Commission employed convicted felon.
"This is not about Eric Temple, it is about oversight of the Ypsilanti Housing commission," Council Member Brian Robb said.
Council Member Ricky Jefferson said he had no problem with someone who had served their debt to society working for the city or Housing Commission.
"The handling of the situation is what I'm concerned about," he said.
"Was it disclosed that he was jailed in 2009? I want to know. And was there any compensation (during that period)?"
A U.S. Department of Housing and Urban Development report also recently brought the Housing Commission's transparency into question.
Two commissioners who served when Temple was hired and while he was jailed have refused to answer questions from Jefferson about the matter.
"They were here at the time of his hiring, they were here at the time of the leave of absence, so they were there," Council member Pete Murdock said. "All they need to do, instead of circling the wagons and not saying what happened; they just need to say what happened."
City Council has no control over who is hired or fired at the Housing Commission. HUD delivers federal funding to local housing commissions that manage property for low-income residents, and the agencies must comply with strict HUD guidelines and standards.
The housing commission's staff is overseen by the board of commissioners whose members are appointed and removed by City Council, giving the city at least an indirect way of influencing what happens at the Housing Commission.
Several council members have brought up the possibility of removing the entire Board of Commissioners if the issues continue.
Executive Director Walter Norris worked at the Galveston, Texas, Housing Authority with Norris before Norris was terminated from that post in 1996. He is responsible for bringing Temple to Ypsilanti after starting here. Norris previously declined to comment when contacted by AnnArbor.com and hasn't made information available to the City Council.
Brazoria County, Texas, records obtained by AnnArbor.com show Temple was sentenced to five years probation for writing a bad check between $1,500 and $20,000. He was allowed to leave the state to take his job at the YHC.
According to an official with the Brazoria County Sheriff's Department, Temple failed to complete the terms of his probation, was held by the Washtenaw County Sheriff's Department and transported to Texas to be jailed in April 2009.
He remained jailed from April 28 to May 8, and court records indicate that he wasn't allowed to leave Texas until June 5. Records also show Temple had two other convictions for writing bad checks dating back to 1991.
According to the Housing Commission's employee handbook, an employee can take a leave of absence of up to 30 days every three years, and an additional 30 days if approved by the executive director.
It says that leave is granted without payment, but "with the supervisor's approval, an employee may take any available vacation, personal or compensatory leave as part of the approved period of leave."
Schreiber said he was in favor of letting the Board of Commissioners investigate what happened and said there appeared to be a communication breakdown between the City Council and the Board of Commissioners. He suggested appointing a council liaison to attend the Housing Commission's meetings and report back to council.
Jefferson said he would prefer council just look at the information for itself.
"I have trouble with an agency that has been determined substandard investigating itself," he said.
HUD, which has already flagged the Housing Commission as troubled, said it does not know whether or not Temple was paid while on leave.