Posted on
Wed, May 22, 2013 : 4:30 p.m.
3 of 6 Ypsilanti City Council members abstain from voting on resolution to prevent abstention
By Katrease Stafford
Three Ypsilanti City Council members abstained from voting on a resolution Tuesday that would have prevented them from taking that very action in the future when considering issues.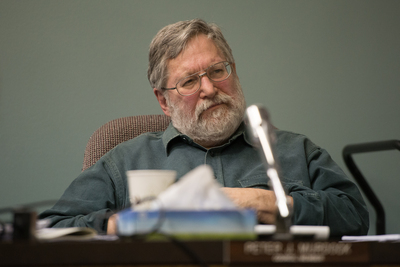 Council member Pete Murdock proposed a resolution Tuesday that would have required council members to only vote yes or no on each issue facing council unless they had a financial or professional conflict of interest.
Mayor Paul Schreiber, Council members Susan Moeller and Brian Robb abstained from the vote to show their disapproval of the resolution brought forth by Murdock.
Mayor Pro Tem Lois Richardson and Council Member Ricky Jefferson voted no, while Murdock and Council Member Daniel Vogt voted yes. The resolution failed.
Murdock said he decided to make the proposal after Council Member Susan Moeller abstained from a vote on May 7 regarding an amendment to the Water Street Family Dollar development purchase agreement.
Moeller abstained from a vote that approved the entire $210,000 from the purchase agreement, and future monies related to Water Street, going toward a fund solely dedicated toward retiring the Water Street debt or for infrastructure costs.
"I was a little surprised that we could do that," Murdock said. "The (city) charter said we have to vote yes or no. The city of Ann Arbor has that in their charter. I just think that people put us here to make decisions. We should vote on every issue."
Moeller said she only abstained from the vote because she wasn't in favor of the Family Dollar being on Water Street. Moeller said she supported the amendment, but not it being packaged with the Family Dollar agreement.
"Lately we're having all this censorship and push here," Moeller said to Murdock. "You didn't like that I abstained and now you just want to have new rules."
Murdock disagreed.
"I don't think it's appropriate," Murdock said. "I think you should have to vote on all the issues. It's not really about you. It's about us."
Moeller said it wasn't wrong for her to abstain from voting, adding that City Attorney John Barr indicated she could do so.
"If someone wants to sit up here and abstain from every vote, their constituents will judge them for that," Robb said, adding that council members should have that right.
Richardson moved to have the resolution set aside, stating she was concerned it would create a "divided council." The motion failed.
"I would rather not see us do things that would divide us," Richardson said. "If we really want to see the city move forward, we have to work together."
Katrease Stafford covers Ypsilanti for AnnArbor.com.Reach her at katreasestafford@annarbor.com or 734-623-2548 and follow her on twitter.