Posted on
Wed, Dec 21, 2011 : 5:58 a.m.
Ypsilanti City Council selects John Hansen for temporary city manager position
By Tom Perkins
A former state representative and experienced interim administrator will serve as Ypsilanti's temporary city manager.
At their Tuesday night meeting, the City Council unanimously approved appointing John Hansen. He will begin his tenure when current City Manager Ed Koryzno departs on January 20.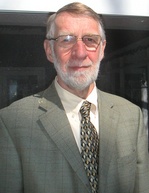 "I have followed his past activities and experience for quite sometime," Council Member Dan Vogt said. "He would be the best candidate, all things considered."
Hansen represented the 52nd district of the Michigan House of Representatives from 1999 to 2002. Prior to that he served as Dexter School's superintendent for 15 years.
Since 2003, Hansen has served as an interim administrator for a variety of local governments and school boards, including Willow Run Public Schools, the City of Chelsea, Adrian Public Schools, Scio Township and others.
Mayor Paul Schreiber noted that Hansen played a key role in "getting the wheels turning" on plans for combining the Ann Arbor and Ypsilanti Chambers of Commerce while Hansen served as the Ann Arbor Chamber's interim president and CEO in 2009.
"That impressed me, and I think he can help us out with getting our wheels turning on some of things we're talking about doing," Schreiber said.
Hansen beat out Ann Capela, a former Inkster city manager, and Reid Charles, a former city manager in multiple Michigan cities. Mark Wollenweber, who served as city manager or interim city manager for cities in metro Detroit for over 40 years, was in the running until recently withdrawing his name.
Council Member Ricky Jefferson said he liked that Hansen appeared to be a "career interim" and would likely understand his role as a temporary manager. He also said he liked that there were no character or trust issues in Hansen's past. Capela had departed Inkster amid controversy.
Koryzno served in the city for 16 years. At his new post with the state treasury, he will advise financially distressed communities on how to avoid takeover by an emergency manager, though he underscored that he will not be an emergency manager.
He accepted a two-year contract extension in March and said at the time that he intended to stay in Ypsilanti to help see it through a rough financial time. On Oct. 18, he said the opportunity to work with the state presented itself after he signed the extension and added that the city's financial picture had nothing to do with his departure.
Hansen joins the city as it continues dealing with $10.69 million budget deficit and prepares to put an income tax and Water Street debt retirement millage sometime in 2012.
"On balance, I think Hansen is the best fit at this time and we're going to keep him busy," Council Member Pete Murdock said.
No timeline on when a permanent replacement could be found was given, but City Council began discussing their search for a replacement at Tuesday's meeting.