Posted on
Wed, Sep 4, 2013 : 5:57 a.m.
Ypsilanti City Council takes first step in approving water and sewer rate hikes
By Tom Perkins
Ypsilanti residents will likely see an increase on their bi-monthly water and sewer bills.
If proposed new rates are approved, an average user's combined bill from the Ypsilanti Community Utilities Authority would climb by $5.87 per bi-monthly bill, or 4.14-percent, including a surcharge for debt capital improvement costs that will decrease from 68-to 67-percent.
The average city of Ypsilanti user, which is typically a family of four, uses between 1600 and 2000 cubic feet bi-monthly.
At its Sept. 3 meeting, the Ypsilanti City Council approved the first reading of separate ordinances for each of the increases and decrease. A second reading is expected at the next regular meeting.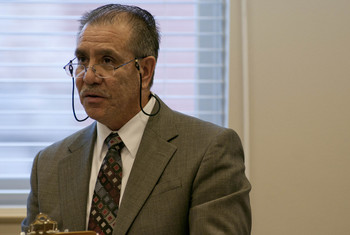 Tom Perkins | For AnnArbor.com
YCUA executive director Jeff Castro said the rate increases are a result of the Detroit Water and Sewerage Department passing on a 6.3-percent increase in its fixed rate to the YCUA. No matter how little a consumer uses, they are automatically charged a minimum, or fixed, rate.
Castro said water usage in Michigan is dropping in general and the DWSD needs to make up for those lost revenues by increasing the fixed rate, though the YCUA was able to lessen the increase passed on to its customers.
"We were able to reduce to 5 percent due to containment of other costs," Castro said. "The authority has been managed well over last several years and reduced costs and reduced staff through attrition."
The city division of the YCUA is overwhelmingly residential and institutional, Castro said, and the authority expects stable water and sewer usage over the next two years. The city has seen a 7.9-percent decrease in water usage over the last five years.
Council Member Susan Moeller questioned why, if less water is used, rates continue to increase.
YCUA officials explained that there is a fixed cost to providing water and sewer, and spreading it over smaller base increases payments for each customer.
"Unfortunately when consumption decreases, costs go up. (DWSD) must recover that cost to pay for their debt," Castro said.
"There's no profit or trying to build or expand on people's water rates," added Mike Bodary, a former city council member who is now the city's representative on the YCUA board.
Moeller also questioned what happens if City Council votes against the increase, to which Council Member Brian Robb responded "Then the YCUA looks like the bad guy because you voted against increasing water bills."
The city is required by a covenant in its bond agreement to pay its bond debt and operating and maintenance costs plus 25 percent, and failing to do so could put cause financial trouble for the city and YCUA.
Moeller subsequently voted against the water and sewer increases, but not the reduction in debt payments.
The last YCUA rate increase was in October of 2012.
Ypsilanti Township recently approved a first reading of slightly higher increases for customers there. Township and city governments will vote on a second reading of the ordinances at their upcoming meetings.