Posted on
Wed, Nov 30, 2011 : 5 p.m.
Ypsilanti income tax, Water Street debt millage request likely going before voters
By Tom Perkins
Ypsilanti voters will likely be asked to approve an income tax and Water Street debt retirement millage next year.
But Ypsilanti City Council is working to offer those proposals with significant spending cuts of $1.3 million over the next two budget cycles. In estimates calculated at Tuesday's financial goal setting meeting, the budget was projected to be balanced by 2017 and the city will have $2 million in additional reserves if the new taxes are approved and the cuts are made.
The city is working to close a projected $10.69 million deficit in fiscal year 2017, and its $9 million in reserves are projected to be depleted by fiscal year 2015. Without any changes, the city faces insolvency and the likely prospect of takeover by a state emergency manager.
No votes were taken on Tuesday, but council directed staff to start working on preparations for the income tax and debt retirement millage votes as well as finding cuts. Requests for proposals have already been sent out on a study needed to determine what the income tax might generate.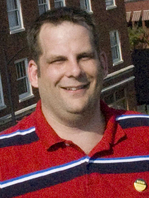 But Council Member
Brian Robb
insisted council determine how much it would cut from the city's budget and how it would
balance the budget
before beginning working on revenue proposals. Without that much, council has no chance of convincing voters to pass the tax increases, he said.
"At the end of the day, we're asking people to invest in Ypsilanti, and until we come up with the plan with reductions and increases, it's premature to think about putting anything in front of the voters," he said.
Robb developed a program that calculated how much in cuts the city would have to make in order to balance its budget in 2017. That number fluctuates depending on how much of its reserves council wants to spend and how much it expects to generate from an income tax.
He gave an hour-long impromptu presentation to council and explained the formula. Assuming that the Water Street debt retirement millage passes and the income tax were to generates $2.25 million in fiscal year 2014, the city would balance the budget in 2017 and have an additional surplus of just under $2 million if it found $1.3 million in reductions.
The city would make $650,000 in cuts to recurring costs at the beginning of the next two budget cycles in fiscal year 2013 and 2015. Including the revenue assumptions, it would have to spend $620,000 out of its reserves next year.
Council Member Pete Murdock underscored that the city needs to present a plan that solves its financial issues if it is going to ask voters to approve an income tax.
"When we get all the pieces together it's important that ... it solves the problem," he said. "If it doesn't solve the problem, and we had that experience last time, then people are going to say 'Why bother?' We need to make it work and when I say make it work, I mean have a balanced budget … or at least as close as we can get it."
But where will the cuts come from, especially in a city that has already made significant reductions over the last decade? City Manager Ed Koryzno will provide council with a variety of options, and many possibilities were discussed at the last two financial meetings.
Among them are:
Reducing the annual rate at which health care costs are increasing by 10 percent.
Further cuts to personnel.
Consolidating city hall offices.
Considering selling off city parks or buildings.
Creating a special assessment district around city streetlights to help the city switch to LED street lights.
Consolidating with Ypsilanti Township.
Council members are not eager to cut more personnel and capping health care cost increases at 5 percent annually would save $1 million over 5 years, according to Robb's calculations.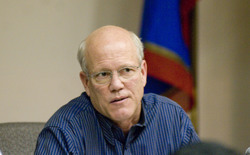 Tom Perkins | For AnnArbor.com
Even if the city was absorbed by the township, city residents would still be on the hook for its own debt and township residents would not.
Council must also figure out when to put the debt retirement millage and income tax proposal in front of voters and whether or not to package them together. Several council members said they thought a special election in August would be the best choice, though other possibilities are May or the November general election.
Mayor Paul Schreiber said he thought May was too early because the city needs to complete its income tax study and also communicate the issues to voters. He said he thought a lot of progress was made at Tuesday's meeting in giving staff direction on goals, but he said isn't pleased about having to find another $650,000 in cuts.
Still, the plan doesn't deplete the city's reserves or involve asking the state for a loan as other municipalities have done, Schreiber said.
"It is a plan and it's a comprehensive plan that looks to future," he said. "I think council is being responsible."