Posted on
Mon, Nov 7, 2011 : 5:56 a.m.
Ypsilanti City Council chooses West Cross Street repaving project over South Grove Road
By Tom Perkins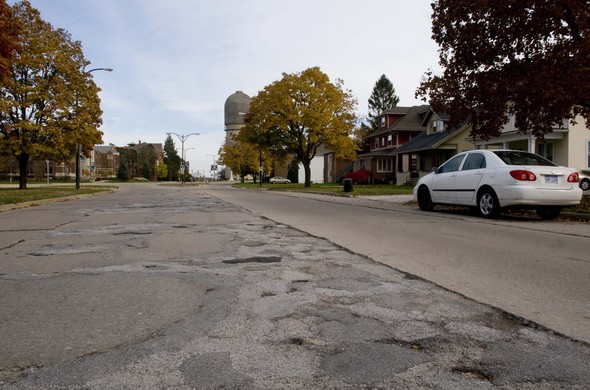 Tom Perkins | For AnnArbor.com
The City of Ypsilanti will receive new federal money for road repairs, but it's not going to replace a controversial section of South Grove Road that is deteriorating.
Instead, the city is using the funds for a complete rebuild of several blocks along West Cross Street between Wallace Boulevard and Washtenaw Avenue, where there also is significant deterioration.
At a special Tuesday night meeting, City Council voted 4-3 to approve the curb-to-curb reconstruction of the stretch of road. Council Member Dan Vogt wanted council to opt for a cheaper and temporary fix, while council members Ricky Jefferson and Lois Richardson were in favor of reconstructing Grove.
Including the replacement of old water mains below the road, the project will cost more than $1 million total. But the Ypsilanti Community Utility Authority is paying for the water main replacement and providing the city with about $90,000 for the project. The city also is receiving $225,000 in federal money through the Federal Surface Transportation Program and had already budgeted another $60,000 in engineering costs. The total bill to the city will be about $400,000.
The rebuild will be done next spring with a hot asphalt mix and is expected to last 15 to 20 years. A complete rebuild using concrete would have cost an additional $200,000. An amendment to fund the strongest rebuild failed, 4-3, with Council Members Brian Robb and Pete Murdock supporting it, along with Mayor Paul Schreiber.
Vogt said he favored the original resolution, which called for repair of about 10 percent of the parking lanes and 60 percent of the travel lanes on West Cross at a total cost to the city of $135,000. He said the city needs to "hold the line" on spending as it prepares to ask voters to support tax increases.
"I think that is, unfortunately, the fiscally responsible choice to make," he said.
But Robb, Schreiber and Murdock contended that the road needed a full rebuild so it wouldn't have to be addressed again in several years.
"This is similar to the discussion on (Grove Road)," Murdock said. "If we have to do it, we should do it right."
Council member Mike Bodary, who originally leaned toward the option Vogt supported, said an option between the cheapest and most expensive would be the best idea. He subsequently gave the extra vote needed to pass the option that will cost the city $424,000 and provide a curb-to-curb rebuild and replace the water lines.
Prior to the vote on West Cross, council members discussed the pricing options and logistics on the Grove Road rebuild. At an Oct. 18 council meeting, officials from Ypsilanti Township offered to loan Ypsilanti the money to overlay several inches of asphalt as a temporary solution.
Council voted against taking any kind of loan and decided to hold off on repairing the road until it could afford the estimated $500,000 to $600,000 rebuild.
Residents who live in the neighborhood near the stretch have grown increasingly upset with the road's condition in recent years and have said it has caused damage to their cars.
But council members reiterated their position that a complete rebuild was needed and said it would be the next project after West Cross Street. OHM Engineer Ken Early said he spoke with road commission officials who said the Grove project couldn't be completed until spring because it's so late in the season.
Richardson asked Early whether Grove Road or West Cross Street was in worse condition, and Early said measurements taken at West Cross indicated it was slightly worse.
Richardson said she had a suggestion she knew would be unpopular.
"I suggest we give that 500 to 600 feet of Grove Road to the township," she said. "That's the entrance into their area, we don't have that much that people use around it. Let's give it to them."
The suggestion was met with silence.
Township officials have expressed frustration with the city for turning down the loan it previously offered and refusing to address the road for so many years. They say it affects township residents but also hurts Ypsilanti because township residents won't travel into the city because of the road's condition.
"For a city that's got one foot in the grave and one on a banana peel, it doesn't makes much sense not take some assistance when it's offered and try to reconstruct a road that is a gateway into their city, into Depot Town and into downtown," Township Attorney Doug Winters said.
Robb said the engineers' analysis of the roads showed West Cross was in worse condition, and he pointed out that West Cross and South Grove both lead into the township, so the city is actually taking care of the worst street leading into the township.