Posted on
Mon, Oct 29, 2012 : 5:55 a.m.
Ypsilanti City Manager: Restructuring, redevelopment focus of 5-year budget plan
By Katrease Stafford
City Manager Ralph Lange said his 5-year budget plan for Ypsilanti does not include layoffs, but he is examining the possibility of merging departments and cross-training city employees to do various tasks in order to save money and maintain services.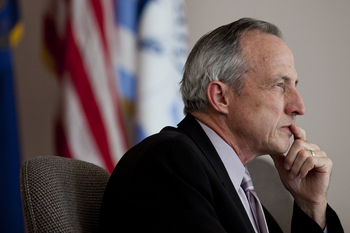 Lange said by January 2013, the city will lose a total of 15 full-time employees who account for "high end, high dollar" positions. Lange said so far the city has replaced three of the 15 positions, but they all won't be filled.
"That's why we're trying to look at cross-training and merging departments," Lange said. "That is not limited to public safety... We're looking to implement that in the entire city operations.
"... (With) the number of people leaving, we can't do business as usual. (We have to) do a lot more cross-training all the way around so one person can do numerous jobs and they support each other."
As part of the ongoing discussions of restructuring, AnnArbor.com previously reported a proposal was being weighed to possibly combine the city's police and fire departments into a single department of public safety to combat rising expenses and shrinking funds.
The proposal would cross-train police officers and firefighters to do both jobs.
Lange declined to specify the additional departments being looked at for a possible merger.
Lange said the plan is still in the works but he expects city council members to be able to review it before the special meeting at 7 p.m. Tuesday, Oct. 30, when it will be presented.
"We're still assembling the information," Lange said. "We were dealt a very unusual circumstance in the period of one calendar year from January 2012 to January 2013."
Lange said losing the 15 employees made a difference when staff began examining the city's budgets.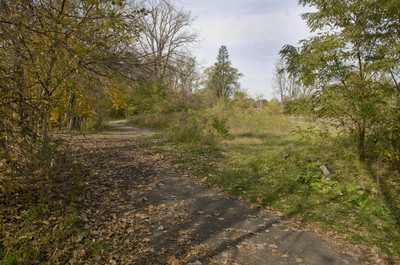 Tom Perkins | For AnnArbor.com
The positions Lange referred to are the previous city manager, four patrol officers, a fire lieutenant, two police sergeants, a police lieutenant, deputy clerk, three firefighters, and a fire captain.
"It just completely changed the dynamic," he said. "With that many people gone, we went into an analysis of how we deliver services in each department and how we can do it with lesser people. Even if you replace the positions, they're not receiving the same benefits pay or package, so you would save money."
Lange said altogether, the base salary of all 15 employees account for more than $1 million. That number does not include benefits or pensions.
"The city without laying off anyone had a reduction of $1 million," he said.
While Lange has no plans to lay any off, he said the city is facing a serious situation. "The garbage fund has a serious problem," he said. "It has no fund balance so that needs to be addressed. The plan is to not include the general fund subsizing other funds."
"We're hoping we can generate additional revenue and save money.... The issues are debt and overhead and that's what we're trying to address. Will there never be another layoff? I can't say that, but that is not a part of the plan as it now stands."
Lange said his plan focuses on the importance of redevelopment of key properties and areas of the city.
"The goal isn't just to provide city services, but to foster the redevelopment and construction of pretty big chunks of property," he said.
Lange will target redeveloping the Water Street property and other key areas.
The city assembled the 38-acre Water Street property about 9 years ago with a plan to create a mixed-use residential project. But it hasn't been able to find developers for the property.
A proposed Eastside Recreation Center, which would be on 8 acres of the property, will serve as an anchor tenant for future developments and be an economic growth driver, officials said.
"We have a lot of land that has the potential for redevelopment," he said.
The 5-year plan, according to Lange, will give the city a "rational" amount of time to redevelop Water Street.
"I don't think anyone thinks Water Street will ever be to the point it can pay for itself, but the redevelopment of Water Street will have a big influence on our debt schedule."
Ypsilanti must pay $30 million on its Water Street bond debt and continue to make payments through 2031. Its annual payments will grow to $1.7 million annually by 2015, and the city currently has $2.6 million set aside to pay down the debt.
Lange said the city may look at possibly trying to reschedule the debt payments, but that cannot happen until May 2016.
"There's a lot of reasons to make sure we are solvent through the next five to seven years," Lange said. " No one wants to invest in a place where they're not sure if they're going to be in business next year to provide a certain level of services and still stay solvent."
Lange said he will not ask council to vote on the plan, but he wanted to provide them an updated look at budgets that have changed much over time.
"The city has a very, very difficult circumstance, but the goal was to line it up so that we still provide the services," he said. "There was concern that the city would go out of business or have a receiver and one of my primary goals was to make sure that didn't happen. The big part is the redevelopment and reinvestment in bringing a lot of dollars back into the city. That does not happen overnight."
Katrease Stafford covers Ypsilanti for AnnArbor.com.Reach her at katreasestafford@annarbor.com or 734-623-2548 and follow her on twitter.