Posted on
Fri, Mar 1, 2013 : 12:32 p.m.
Ypsilanti Color Run: Registration re-opens after 14,000 people sign up
By Katrease Stafford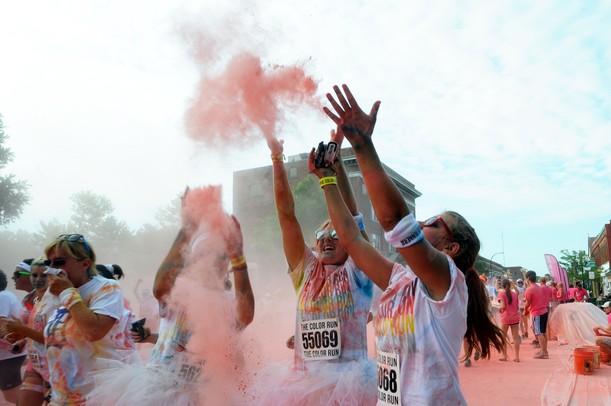 Melanie Maxwell I AnnArbor.com
More than 14,000 people have signed up for the widely popular Color Run event in Ypsilanti and due to a large demand, organizers have re-opened registration for a short time.
Christine Laughren, manager of marketing and communications for the Ypsilanti Visitors Covention Bureau, said Color Run representatives were in Ypsilanti last week working out the logistics of the upcoming May 11 event.
"It's all really working out nicely," Laughren said. "We're super excited to have them back this year and I think it will be a great event."
Organizers haven't specified how many more slots can be filled, but are urging individuals who missed the initial signup to register quickly. The initial registration began Feb.1.
Laughren said the route will be the same as the first event, in which onlookers tossed colored cornstarch at those running or walking in the 5K event.
Ypsilanti runners started in Depot Town and continued to Eastern Michigan University's campus and downtown Ypsilanti, finally ending back in Riverside Park.
Riverside Park will be transformed into the "race village" and the starting line will be right across the river on Cross Street in Depot Town. The race starts at 8 a.m. and runners will not all start at once, but will begin in waves.
"We've been working in conjunction with the city and Eastern Michigan University to make sure it's smooth and a great race and everyone has a great time," Laughren said.
Visitors Bureau Executive Director Debbie Locke-Daniel said the event, which is expected to attract nearly 15,500 runners and 10,000 additional observers, has a significant economic impact on the area community.
This year, since the event is on a Saturday, Locke-Daniel is hoping participants and family members decide to stay in the local hotels over the weekend and visit the many restaurants and businesses in the area.
"I hope they make it a whole good weekend experience," Locke-Daniel said. "To come back to a city of our size speaks to the community and how they felt everything worked last year, which is what they keep reiterating to us."
Color Run organizers worked closely with Locke-Daniel's staff and the city to ensure the event went well and the same will be done this year.
"It has been such a good experience," Locke-Daniel said. "They like our park and being on the river. I think of course our bureau looks at it as a positive on many levels. It's amazing how fast they sell out. There's nothing about it to me that is a negative."
Below, see a video of the 2012 Ypsilanti Color Run:
Katrease Stafford covers Ypsilanti for AnnArbor.com.Reach her at katreasestafford@annarbor.com or 734-623-2548 and follow her on twitter.