Posted on
Tue, Feb 26, 2013 : 5:58 a.m.
Ypsilanti's new school district retains 2 superintendents and hires WISD for leadership
By Danielle Arndt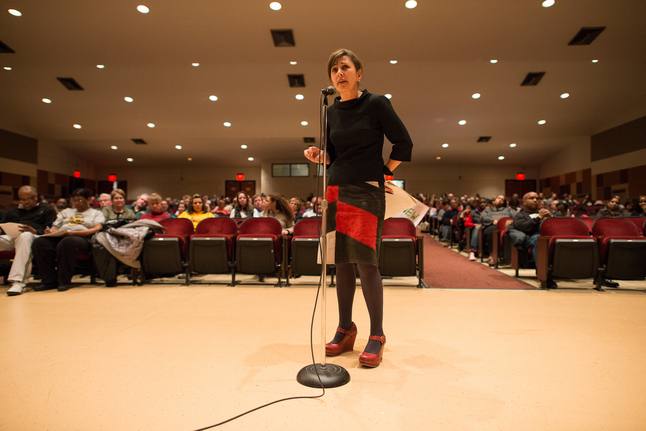 Courtney Sacco | AnnArbor.com
It was a unanimous vote that drew jeers and boos from a crowd that totaled about 180 people Monday night.
The joint Ypsilanti-Willow Run Board of Education moved to appoint Washtenaw Intermediate School District Superintendent Scott Menzel to lead the new consolidated district through its transition period.
The second part of Monday's motion ignored pleas from more than a dozen residents who spoke at the meeting to hire someone with a fresh perspective. And instead, board members approved retaining both current superintendents, Laura Lisiscki of Willow Run and Dedrick Martin of Ypsilanti, to serve as associate superintendents of the consolidated school system under Menzel.
The motion was prompted by a recommendation from Michael Wilmot, president and chief executive officer of the Michigan Leadership Institute, and the board's superintendent search committee, comprised of trustees Anthony VanDerworp, Celeste Hawkins and Vice President Don Garrett.
Parents and community members were not permitted to serve on the ad hoc committee. However, public input from two community forums, one in each district, was considered by the committee throughout the search process, Hawkins said.
During the board's discussion on the recommendation to hire Menzel, Lisiscki and Martin, the audience grew rowdy, and President David Bates asked those in attendance to be quiet and respectful a number of times. Shouts of "Way to pass the buck!" and "This is absurd!" could be heard from the crowd.
One audience member shouted in response to Bates' request for respectful behavior: "If either of the current superintendents had any respect for anyone in this community both would resign right now."
Cries from the crowd were met with applause and cheers of affirmation. The board's unanimous decision was booed by several in attendance. A few people clapped at the retention of Martin and Lisiscki.
Ypsilanti resident Jill Clouse, a parent of four children in the Ypsilanti Public Schools district, stood up during the meeting and accused the board of plotting to hire these individuals all along.
"This is such a farce! You knew about this so long ago. … You blindsided us on this whole consolidation thing. … You need to step down and you need to step down!" she said, pointing at Bates and Garrett, both of whom served as presidents of the districts' previously separate school boards.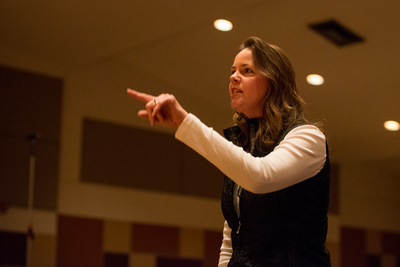 Courtney Sacco | AnnArbor.com
Clouse said after the meeting she was very disappointed the board did not consider hiring Irvine. However, she did say having Menzel oversee Lisiscki and Martin is better than hiring one of the existing superintendents on their own.
Tamara Larson, another Ypsilanti parent, said after Monday night, she is considering pulling her son out of the new district and putting him into a charter school.
"I'm more disgusted now than when I came in (to the meeting)," she said. "They pushed this vote and at the end of the day, it's our kids who are going to suffer. ... They just care about themselves. I guarantee you that this has been the plan all along."
Ypsilanti Education Association President Krista Boyer said her biggest fear going into Monday night was that the board would hire two superintendents. "And now we have three," she said, adding Menzel didn't even have a public interview.
"But at least the state gave us $6.5 million so we could do that and could waste more money," Clouse said sarcastically.
Boyer said she's in shock about the decision.
"I feel like what we said went in one ear and out the other. So many people got kicked in the gut tonight," she said. "... Never in my wildest dreams did I think we'd wind up with three superintendents."
The motion approved Monday is not binding, but rather gives Garrett and Bates the green light to meet and confer with the WISD school board to discuss the possibility of contracting for superintendent services through the WISD, as permitted by Michigan law.
If the WISD Board of Education is open to the idea, the two oversight bodies would begin negotiating a contract for services through either Dec. 31, 2014, or June 30, 2015, depending on the will of the Ypsilanti Community Schools board, Wilmot said. Dec. 31, 2014, is when the appointed joint school board members' terms expire.
The contract negotiations would determine the scope of work the WISD would provide and help to define and delineate the responsibilities of the three leaders, Menzel, Martin and Lisiscki.
Bates said the board has been impressed with the work that's been completed so far by the team of Lisiscki, Martin and Menzel. And the two districts would not have even had the option to merge if all three of those people hadn't stepped up, he said.
"The board wants to see the progress continue and doesn't want to do anything that might jeopardize that progress in any way. The board decided that was the most important decision," he said. "… Up to this point, the WISD board has been very supportive of the work we're doing. … I see no potential roadblocks for negotiating with them and keeping the leadership team intact."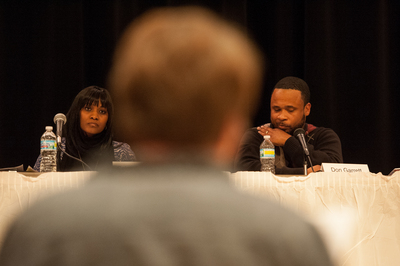 Courtney Sacco | AnnArbor.com
At a Feb. 18 board meeting, when trustees felt they could not decide on a single candidate, they directed Wilmot and the ad hoc committee to
investigate what options might exist
for employing two or more people to serve as superintendent.
Wilmot said per state law, every district in Michigan is required to have a superintendent, but there is some flexibility in how that can be accomplished. A provision added to the Revised School Code in recent years allows districts to contract through their intermediate school districts for superintendent services.
Menzel said he could not speak for the WISD board about whether this proposal is something it would consider. He did say, however, that from the very onset of the merger discussions, the WISD has offered to provide whatever assistance it could and was asked to provide.
"We've shown unwavering support to these two districts and this community," he said.
Lisiscki, Martin and Ypsilanti Executive Director of Human Resources Sharon Irvine all were candidates for the superintendent position of the Ypsilanti Community Schools district, which officially launches July 1 and opens its doors to students in September. The Ypsilanti and Willow Run districts will cease to exist as of June 30 due to the merger proposal that was passed by voters of both districts in November.
Irvine was the frontrunner of the superintendent search and was the clear favorite of the vocal majority at Ypsilanti Public Schools. She garnered the endorsements of the Ypsilanti teachers union and others, including parents and students, in the community. It is unclear whether there would be a leadership role made available to Irvine in the new school district under the leadership model that was approved Monday.
Willow Run teachers and residents largely supported Lisiscki for superintendent, although some in the district did express the importance and benefit of retaining both Lisiscki and Martin.
Former Willow Run Board of Education member Mark Wilde called the decision Monday an "entertaining solution."
"It does offer some stability. But unfortunately, based on public opinion, it also allows some divisiveness to occur," he said.
Wilde originally hoped Lisiscki would be named superintendent and Martin assistant superintendent. "In the long run, this (three-person leadership model) is probably a good thing … or at least is the best workable solution temporarily."
He added the decision also might be the most fiscally responsible.
Board members explained Monday that Martin and Lisiscki's contracts must be fulfilled by the new school district regardless of whether the new district employs them or not. Lisiscki has one year left on her contract while Martin has three years remaining, Bates said.
Based on their current contracts, Lisiscki makes $120,000 and Martin makes $140,000.
Bates said the "survivability" of superintendent contracts is spelled out in state law. Teachers, principals and other employees of both districts already have been notified that their contracts will be terminated as of June 30. All employees will be required to re-apply for their positions.
Money from the $6.5 million consolidation grant the district received to assist with the costs of merging can be used to help pay for employing Menzel as superintendent and Lisiscki and Martin as associate superintendents in the transition period, Bates said.
Menzel said a $100,000 line item for superintendent services was built into the grant proposal and budget from the beginning.
"The original intent was … knowing that we had to close out two independent school districts, the thought was that we needed to hire someone else, preferably a retired superintendent, to help with the launch of the new district while others were occupied with closing out the other two districts," Menzel said.
Danielle Arndt covers K-12 education for AnnArbor.com. Follow her on Twitter @DanielleArndt or email her at daniellearndt@annarbor.com.