Posted on
Sun, Mar 3, 2013 : 2:21 p.m.
High-schoolers could get college credits under Ypsilanti Community Schools-WCC partnership
By Katrease Stafford
A proposed new partnership with Washtenaw Community College aims to allow high school students in the Ypsilanti Community Schools district to graduate with college credits or an associate's degree.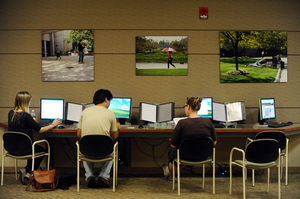 The unified Ypsilanti-Willow Run board voted unanimously Thursday to approve the new partnership, which several board members touted as a positive for the newly created district.
The college's Board of Trustees will vote on the partnership next week, officials said.
"This is exciting for me," said board member Daniel Raglin. "I went to WCC and it was a great experience and led me to continue my education. It was a stepping stone I needed. I think they'll love it."
Board President David Bates agreed.
"I was a student at Washtenaw Community College my senior year at high school and I'm very thrilled to see it come into fruition and can't wait," Bates said.
One of the goals of the new district is to have all students graduate with an associate's degree, college credit or both.
WCC and the new district will create a joint work team with representatives from both districts and the Washtenaw Intermediate School District to explore programming options. Formal recommendations will be made to the governing bodies for approval, as will a formal agreement outlining the specifics of the partnership.
WCC administration will work with officials from Ypsilanti Community Schools and the Washtenaw ISD to allow students to graduate with college credit or a career credential, achieve or exceed the college readiness scores on the ACT or COMPASS exams, and take college courses while enrolled in high school.
Ypsilanti Public Schools Superintendent Dedrick Martin said he believes this is a "once-in-a-lifetime game changer" for all students.
"That is an opportunity we don't see very often," Martin said. "It is very exciting to me to see (us) prepare kids for life after high school, whether that's the work force or college."
Katrease Stafford covers Ypsilanti for AnnArbor.com.Reach her at katreasestafford@annarbor.com or 734-623-2548 and follow her on twitter.