Posted on
Tue, Jun 25, 2013 : 5:58 a.m.
Ypsilanti schools to pursue college scholarship program similar to Kalamazoo Promise
By Danielle Arndt
Danielle Arndt | AnnArbor.com
Could two years of free tuition to community college be guaranteed to graduating students of the new
Ypsilanti Community Schools
district? A group of school and community leaders are trying to make it happen.
One goal of the Ypsilanti Community Schools district is to ensure all students have the chance to earn college credit or career credentials by the time they don their caps and gowns to receive their high school diplomas.
One way the district hopes to make good on that ambition is to launch something similar to the Kalamazoo Promise, a scholarship program that began eight years ago and is available to any graduate of the Kalamazoo Public Schools.
School officials in collaboration with business and community leaders, and State Reps. David Rutledge, D-Ypsilanti, and Bill Rogers, R-Brighton, have been meeting to discuss how to make a scholarship program like the Promise possible in eastern Washtenaw County.
The Ypsilanti Community Schools district launches Monday, marking the end of Ypsilanti Public Schools and Willow Run Community Schools, two troubled eastern county school systems with storied histories.
Students from both districts will attend class together in the fall. The merger has been touted by officials as being a "clean slate" and a fresh opportunity to improve student achievement and shrink the districts' combined $13 million debt.
Washtenaw Intermediate School District Superintendent Scott Menzel, who also will serve as the superintendent of YCS during the merger transition, said officials and key community players have been working through the logistics of offering a Promise-like scholarship in Ypsilanti, though he was doubtful the program would initially be as robust.
"At this point in time, we don't have any big donors lined up," Menzel said. "… Setting up a promise that students could get two years paid for at WCC (Washtenaw Community College) seems like far more reachable of a target as we've been looking at what's possible. But obviously, we wouldn't deny people the opportunity to give if this becomes a particular passion for people in the community.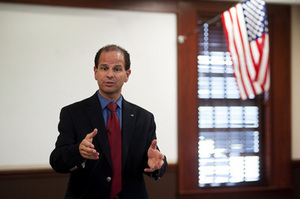 Daniel Brenner | AnnArbor.com file photo
"If we find there are enough passionate people, then absolutely, we'd love to make this more than (a two-year scholarship)."
The Kalamazoo Promise scholarship program was established in 2005 by a group of community leaders with the backing of generous, anonymous donors. The Promise scholarship is available to all students who graduate from KPS, are residing in the district and have been at KPS for four years or more.
The scholarship program covers 65 percent to 100 percent of tuition and "mandatory fees" to any two- to four-year public college or university in Michigan.
The percentage of the cost paid for depends on how long the student has attended KPS. Twelve years (grades K-12) with the district equates to 100 percent covered, whereas a student who has attended only grades 9-12 receives 65 percent of his or her college tuition paid.
Menzel said because YCS is a new district, there is not a good way of knowing how many students for certain will enroll this fall. The district has done projections and is now working on further projections to pinpoint how many graduating seniors the district could have this year that would meet the GPA requirements and entrance-level assessment scores on the ACT for being admitted into Washtenaw Community College.
Menzel said once this step is complete, leaders will have a fundraising target to shoot for — which is important, he said, because the district would want to be able to honor the promise of two years' free tuition for all students that would academically qualify.
One year of tuition at WCC for students taking a standard course load of 15 credit hours per semester is $2,880, according to the college's website.
Of providing a Kalamazoo-like promise to Ypsilanti students, Rutledge said the model is there, "we just need to tweak it to fit our students." He added community leaders have been speaking with Promise Executive Director Janice Brown for advice and to learn more about how the program got off the ground.
Being able to offer two paid years of college education could be a "game changer" and the difference between parents choosing YCS instead of a charter school, Rutledge said.
"We are going to make this new district so strong and are going to provide more of what parents are looking for," the legislator said. "I think if we do that right — and I have the confidence that we absolutely are — then parents will see that what we offer is not simply a quality K-12 education piece, which will get demonstrated over time, but also ... that the district is looking at innovative ways of taking their child into an expanded higher education experience."
Menzel added community leaders hope to be able to use Ypsilanti Community Schools as a pilot, but eventually to expand the scholarship program to make it countywide.
Read more about the Kalamazoo Promise:
Danielle Arndt covers K-12 education for AnnArbor.com. Follow her on Twitter @DanielleArndt or email her at daniellearndt@annarbor.com.