Posted on
Mon, Feb 11, 2013 : 12:04 p.m.
Ypsilanti consolidates clerk and treasurer offices into single department
By Katrease Stafford
The city of Ypsilanti has consolidated its city clerk and treasurer offices into a single department. The consolidation is the city's latest effort to cut costs, while maintaining services.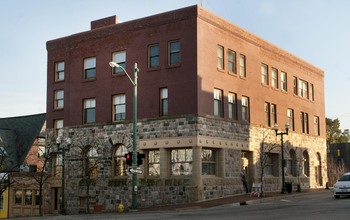 The consolidation became effective Monday and the treasurer's office has relocated from the third floor of City Hall to the first floor.
Part of City Manager Ralph Lange's five-year recovery plan called for the reorganization of city employees and departments to create both cost savings and improve customer service.
"One of Mr. Lange's goals was to cross-train personnel," said Mayor Paul Schreiber.
Schreiber said Clerk Frances McMullen and Treasurer Kimberly Teamer are being cross-trained to learn each other's duties. In total, the office will have 3 1/2 full-time positions. No jobs were eliminated in the consolidation.
"... As long as employees can handle being cross-trained, it should work out for everyone," Schreiber said.
Schreiber said the city does expect the consolidation to result in some savings, but he isn't sure of the exact amount.
The city expects the consolidated office will improve customer service and provide a "one-stop shop" service experience for residents.
"We're excited about the consolidation because we're looking forward to providing a better service to our residents and customers," McMullen said. "We think it's a good idea and hopefully it will prove to be cost efficient and effective."
A SEMCOG report in January urged the city to look at consolidating various departments, including the building and planning department in order to better focus on fostering economic development. SEMCOG believes that consolidation may improve property values and in turn property tax revenues.
The city also is pursuing a hybrid model for its police and fire departments to reduce expenses and maintain services.
The city clerk/treasurer's office will be open for general business from 8:00 a.m. to 5:00 p.m. Monday through Friday.
Katrease Stafford covers Ypsilanti for AnnArbor.com.Reach her at katreasestafford@annarbor.com or 734-623-2548 and follow her on twitter.