Posted on
Sat, May 25, 2013 : 12:30 p.m.
Ypsilanti DDA awards $20K grant to AATA for improvements at Ypsilanti Transit Center
By Katrease Stafford
The Ypsilanti Downtown Development Authority has awarded the Ann Arbor Transportation Authority a $20,000 grant to go toward $500,000 in improvements at the Ypsilanti Transit Center.
At its May 16 YDDA Board meeting, the board overwhelmingly agreed to support the programs and services provided to Ypsilanti by the AATA.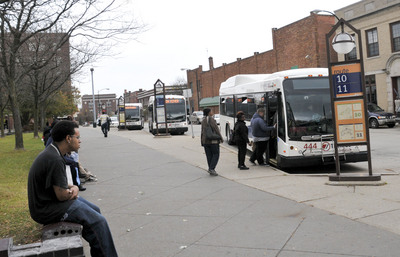 AnnArbor.com file photo
The DDA board stated that since the AATA has increased its investment in both services and infrastructure to the DDA districts in recent years, it decided to give a grant.
The one-time grant's funds will come from the fund balance reserves of the Downtown, Depot Town and West Cross Street districts.
The grant follows a recent resolution from the Ypsilanti City Council that requested the DDA to consider giving the funds.
Ypsilanti Mayor Paul Schreiber, who also sits on the DDA board, said some of the funds will be used to improve the signage at the transit center. Schreiber said the AATA has about $500,000 in planned improvements. Future money could be given to the AATA by the DDA, Schreiber said.
"There was a comment about in future budgeting to have some sort of expenditure for public transportation," Schreiber said. "I will say that $20,000 is not much when you compare it to other revenues for the AATA like from the Ann Arbor DDA, but for the Ypsilanti DDA, which has about a $500,000 budget, it's about 4 percent of the budget. It's a significant monetary transfer."
The Ypsilanti City Council passed a resolution April 23 in support of requesting membership within the AATA. Schreiber said the AATA has passed a resolution acknowledging Ypsilanti's request and further discussion will occur at a later date.
Schreiber said the next step would be for the AATA board to pass a resolution approving the request. The AATA's articles of incorporation, originally approved in 1975 and amended in 1978, would have to be approved by the Ann Arbor City Council, the AATA Board and the Ypsilanti City Council.
Schreiber said he's hopeful the request will be approved.
"I think there's a lot of positive comments," Schreiber said. "The request fits in with their mission and the previous effort of a regional authority. I'm just looking forward to the board's decision and I hope they do accept it. I think it's a great opportunity for Ypsilanti to work with the Ann Arbor City Council and to strengthen regional cooperation immensely."
Katrease Stafford covers Ypsilanti for AnnArbor.com.Reach her at katreasestafford@annarbor.com or 734-623-2548 and follow her on twitter.