Ypsilanti DDA awards nine businesses, building owners $51k in grants
Posted on Mon, Sep 3, 2012 : 5:58 a.m.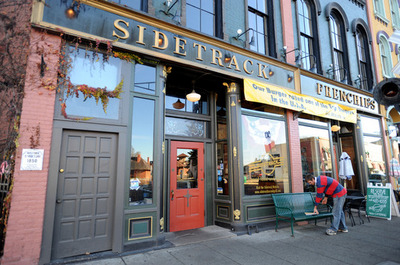 The Ypsilanti Downtown Development Authority has awarded $51,002 in grants to nine businesses and building owners to be used for renovation projects.
The Washtenaw County Eastern Leaders Group provided $30,000 for the Building Rehabilitation and Facade Grant Program and the DDA contributed $15,000.
The grants are designed to cover up to 50 percent of the construction and renovation costs.
The DDA had a $6,002.50 surplus in funds from the 2011-12 W. Cross St. Building Rehabilitation and Facade Improvement Program grant round. That surplus went toward this year's program.
This is the third round of grants given out by the DDA. Previously the program was only for businesses and buildings located on Cross Street. The first round gave out three awards worth $10,000 each and the second gave two grants totaling more than $23,000.
The program has since expanded to include all areas of the downtown districts.The DDA received 15 applications for the grant this year.
Jake Albers, DDA Community Development Coordinator, said the program expansion piqued the interest of more business owners.
"We've always realized we needed to invest in the entire district," Albers said. "We did a very good job doing it in the West Cross District so we said, 'let's let the other districts have a piece of the pie.'"
Albers said the program is a step in the right direction toward downtown's revival.
"In most cases, we're creating jobs," Albers said. "We find this of vital importance. It also improves the aesthetic appeal. We want downtown to look better and we're trying to improve commercial and retail places."
Albers said giving out the grants not only improves aesthetics but also improves the taxable value of the buildings.
"We want these rehabs to have an ongoing impact on the building," he said. "We want these changes to stay with the building. We're also trying to improve the residential stock. They have a profound effect upon the local economy."
The building owners are expected to perform a variety of projects including expansion, roof replacements and new high-efficiency heating and cooling systems.
The projects must be completed within 90 days of the time the business owners received notification they were awarded. Once the projects pass inspection, the owners will receive the grants in the form of a reimbursement.
The following will receive the grants:
Wolverine Grill at 228 W. Michigan Ave.
Mix at 128-130 W. Michigan Ave.;
12 W. Michigan Ave.
Barr, Anhut Law Firm at 105 Pearl St.
Sidetrack Bar & Grill at 56 E. Cross St.
Standard Printing at 120 E. Cross St.
Ypsilanti Food Co-Op at 308-312 N. River St.
Eagle Market at 501 W. Cross St.,
The Crossroad's Bar & Grill at 515-519 W. Cross St.