Posted on
Thu, Oct 4, 2012 : 1 p.m.
Ypsilanti DDA study: City received $310K in parking related revenue during fiscal year 2011-12
By Katrease Stafford
A parking study conducted by the Ypsilanti Downtown Development Authority shows that over the course of the past two fiscal years, the city has seen an increase in overall parking related revenue.
In fiscal year 2010-11, the city received $301,478 in parking related revenue. That number increased to $310,924.25 for fiscal year 2011-12.
Those numbers include revenue generated from parking meters, parking tickets, downtown parking permits and residential parking permits.
Former Downtown Development Authority Community Development Coordinator Jake Albers conducted the survey because he said he wanted to see how parking is being utilized within the city and to get a picture of parking revenue.
There are approximately 1,530 public parking spaces within the DDA's three districts, which encompass the downtown area, Depot Town and West Cross Street. The three areas include the following spaces:
454 metered
86 pay-by-hour
298 free, limited
141 permit only
551 unrestricted
744 on-street
786 off-street
The past two fiscal years also included reductions in general fund expenditures related to parking.
In fiscal year 2010-11, there was a surplus of $73,453 in revenue compared to expenses and in 2011-12, there was a surplus of $89,993.25 in revenue. Currently, all revenues and expenses related to parking come from and go into the city's general fund.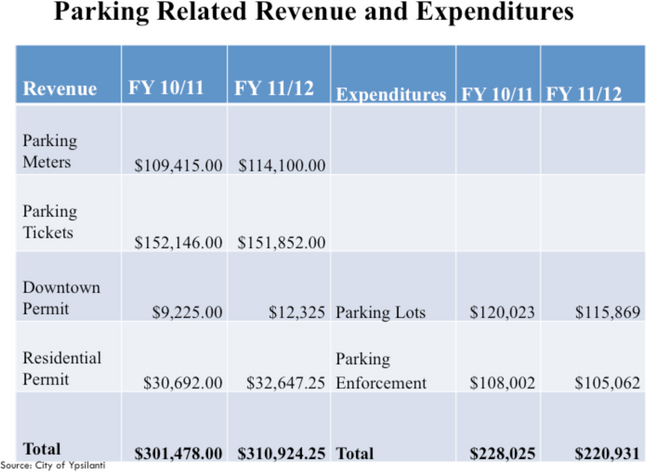 Courtesy of DDA
In addition to looking at revenue for the past two years, Albers also conducted a sub-study to see how much money is generated from the city's parking meters within a two-week period. Albers included 449 meters in this study.
Over the course of six weeks, Albers, volunteers and parking enforcement collected documentation related to meter usage in the city.
The first collection took place on March 23 of this year and the second occurred March 29. During the two week collection period, the meters within the study area generated $6,947.34 in revenue, for an average of $3,473.67 per week.
Data shows that if those averages were to hold true throughout the year, the parking meters within the study area would yield an estimated $180,000 for the city. This would be an increase from the $114,100 reported in fiscal year 2011-12 for revenue related to parking meters.
The DDA collected the data to investigate opportunities to create an integrated parking system within the city.
Katrease Stafford covers Ypsilanti for AnnArbor.com.Reach her at katreasestafford@annarbor.com or 734-623-2548 and follow her on twitter.