Ypsilanti DDA seeks bids for $30,000 parking study
Posted on Fri, Nov 19, 2010 : 12:03 p.m.
A divided Ypsilanti Downtown Development Authority board authorized Director Tim Colbeck to seek bids for a parking study that could cost up to $30,000.
The DDA board approved the resolution 6-5 at its meeting Wednesday morning. Those opposing the idea said the authority has more pressing concerns, while those who favored it stressed they didn't authorize the DDA to spend any money.
The study would help the DDA determine how to develop a self-sustaining parking system in which revenues generated would cover costs associated with running it.
Colbeck will present a proposal to the DDA board at its February meeting. The proposal can't exceed $30,000, and results from a potential study would arrive in April.
Colbeck said he didn't believe revenue from tickets and meters would provide any extra money, but could allow the DDA to pay to fill potholes, fund parking enforcement officers and provide enough to cover maintenance and upkeep.
Colbeck said recommendations from the study would also help plan for growth in the downtown, Depot Town and West Cross Street districts as more businesses move to Ypsilanti, a planned commuter train starts running and enrollment at Eastern Michigan University continues to rise.
Colbeck also said it would help the city "align" some of its parking lots. The Washington Street lot recently came completely under city control and will soon require permits or payment to park. The south Huron lot also underwent changes in recent years. Colbeck said those changes and growth will impact where and how people park downtown.
"I don't think anyone would dispute that we have adequate parking, but we don't have parking that's utilized properly," he said. "We just don't have the wherewithal and experience to say what the future demand going to be."
DDA board member Jim Karnopp said business owners he spoke with opposed the study, and he doesn't believe now is the time to worry about parking.
"I'm really reluctant to do this big, expensive study when there's all these things coming along that haven't come along," he said, noting he's been hearing about a commuter train for 10 years. "Doing things to attract new business and doing the things that actually create a parking problem would be first on my list."
He said it's still not clear if the DDA will eventually control the parking lots. Staff could provide much of the needed information, he said.
Colbeck said staff is working on gathering some information, but professional consultants could best perform a study and recommend changes. A study would help determine when and where demand is greatest or where there is "stress" during peak hours, Colbeck said.
Board member Karen Maurer, who owns several buildings downtown, said she opposed the idea because three of her commercial tenants have expressed opposition. She said she wants to look out for the best interest of her tenants.
She noted other studies by the DDA haven't led to any action, and she's concerned the study would offer a laundry list of expensive projects the DDA can't afford.
"If we spend $30,000 on a study and we can't do anything with it, why would we do it?" she asked. "We've done a lot of studies before, and people are upset in the community because there's nothing concrete to show for it."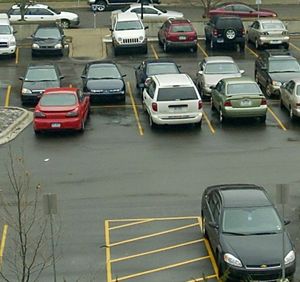 She added she would like to see resources spent on immediate needs that accommodate development, then the DDA can worry about parking.
Board member Kevin Hill expressed similar thoughts. He suggested a plan or model that tied parking questions into the DDA's larger goal of business development.
"The two work hand-in-hand — if you're going to look long range at parking demand in 10 or 15 years, that's fine, but I think that we have some immediate issues that need to be addressed as well," he said. "Short of business growth, there may not be a need to raise parking revenues if there's nothing to come to."
But several board members underscored that their yes vote only authorized a request for information and didn't authorize the DDA to spend any money on a study yet.
"Once we come to that bridge, we'll cross it," board member Linda French said. "If we decide at that time it'll be too much, then we won't do it. But I think we need to figure out how to move forward one step at a time."
She pointed to the development potential in the DDA districts and said the board should take inventory and consider what might happen if the districts develop without adequate parking.
"It would be a crying shame if we were hustling after the fact," she said.
Board member Leigh Greden said he voted yes because the board the resolution was only to seek proposals and "not spend a dime of money."
"I'm a little perplexed about why we would not vote to receive free information from consultants," he said.
Despite the divided vote, several board members said the debate was productive.
"I believe that we're all working toward improving the downtown districts, but we're still working on the best way to achieve that," Hill said.