Posted on
Tue, May 21, 2013 : 10:40 p.m.
Ypsilanti delays decision on emergency moratorium for medical marijuana facilities
By Katrease Stafford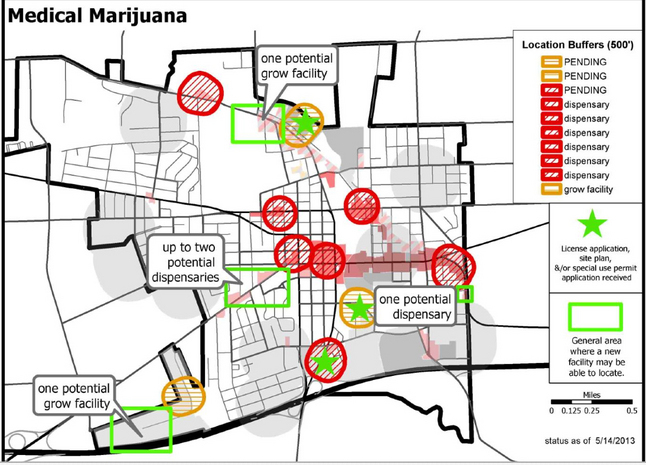 Courtesy Ypsilanti
The Ypsilanti City Council delayed its decision Tuesday on the proposed emergency moratorium on medical marijuana dispensaries and grow facilities, after several community members and business owners voiced their concerns during the meeting.
Council member Ricky Jefferson and Mayor Pro Tem Lois Richardson brought forth the ordinance, which requested no additional permits and licenses be granted related to medical marijuana until city staff reviews the present density of licenses already granted.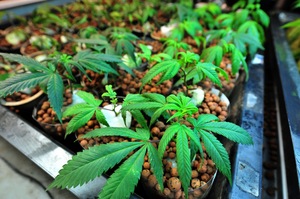 Council voted 4-3 to table the ordinance until its June 4 regular meeting to discuss the matter further. Richardson, council member Daniel Vogt, Jefferson, and council member Susan Moeller voted in favor of the tabling. Mayor Paul Schreiber, and council members Brian Robb and Pete Murdock voted against it.
"This seems like an absolute abuse of the emergency ordinance," Robb said. "The 60 days doesn't really give you time to do anything."
The emergency moratorium would impose a moratorium for 60 days on any new marijuana grow facilities and dispensaries opening in the city.
Jefferson said his main concern was the high number of facilities being located within Ward 1.
Dispensaries and grow facilities within the city:
Ward 1 has two dispensaries, with one potential dispensary. The ward also has one grow facility and one potential grow facility.
Ward 2 has one dispensary.
Ward 3 has three dispensaries and one potential grow facility.
The city has six licensed dispensaries, with one undergoing a renewal process. According to city staff, there is an application in process for a new dispensary to open.
The city has one licensed grow facility and two grow facilities in the application process.
City Planner Teresa Gillotti said keeping in mind the requirements already in place on dispensaries and grow facilities, the city has room for a maximum of between 10 and 14. The city was originally looking at potentially allowing up to 30.
Gillotti said the city receives many calls from parties interested in opening up more facilities.
"Business owners still think that there's a demand," she said. "We get calls all the time."
There are additional areas where a dispensary can theoretically be located, Gillotti said, including the former Taco Bell on Ecorse Road, a space within the 800-900 block of West Michigan Avenue, and potentially the 500-600 block of West Michigan, although this is less likely based on the existing landlords and businesses.
A facility on Railroad Street has applied for a license and the approval is pending site plan approval/construction for a grow facility, and a proposed facility on Catherine Street has received the special use permit and site plan approvals. Work is currently underway on the site and building including sidewalk expansion, stormwater management and building improvements, Gillotti said.
In addition to that, Gillotti said there is potential for approximately two more growing facilities, one in the "Industrial Park" area and another at the former Wooden Nickel on Huron River Drive across the street from the Peninsular Place Apartments.
Richardson said that when she and Jefferson first proposed the moratorium, it was not proposed as an emergency. Richardson said City Attorney John Barr advised the city to consider making it an emergency ordinance.
"That was the legal perspective," Richardson said. "I intrepereted that he was stongly in favor that council adopt this resolution. Mr. Barr was the one who chose the emergency route. With the city of Ypsilanti being four square miles, why would we want 15 grow facilities dispensaries? That's a lot. Let people go to their doctors and go to the pharmacy."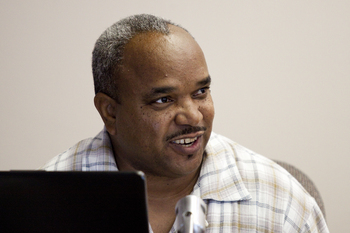 Data provided by the Ypsilanti Police Department shows that calls for police service between May 2012 and May 2013 at Ypsilanti's dispensaries and grow facilities were relatively minimum:
Herbal Solutions dispensary at 124 W. Michigan Avenue received no police calls related to the dispensary.
Cannacure dispensary at 50 Ecorse Road received a call on Oct. 2, 2012 for an attempted breaking and entering. No entry was gained to the facility.
3rd Coast Compassion Center dispensary at 19 N. Hamilton had a reported "unfounded" alarm on March 23, 2013.
Depot Town Dispensary at 35 E. Cross St. had a report of an unfounded alarm on July 29, 2012 and a call on January 13, 2013 for an attempted breaking and entering
St. Indica's Coalition of Kindness, Sticky Ypsi, dispensary at 1090 North Huron River Drive had a report of an unfounded alarm
The Shop dispensary at 513 W. Cross Street had no calls for service.
Green Vitality grow facility at 576 S. Mansfield had no calls.
Richardson said despite there not being many reported instances of issues at the dispensaries and grow facilities, she has personally witnessed troubling behavior at the dispensary on Ecorse Road.
"I watched people going in and out and certainly a number of people I saw going in and out did not appear to need medical marijuana," Richardson said. "They lit up right in the parking lot. I don't think we stop and thnk about what sort of pressure this is going to put on our police department. There was enough marijuana smoke in the air that I thought, let me move before I get a marijuana contact (high)."
Jamie Lowell of 3rd Coast Compassion Center said he believes it's perfectly reasonable for the city to put a cap on the number of facilities within the city, but he believes more time should go into the consideration of the moratorium.
"To have an emergency moratorium is kind of inapproapriate," Lowell said.
Victoria James, a lifelong Ypsilanti resident and area pastor, said she was against more dispensaries and grow facilities opening in the city.
"I love the city of Ypsilanti," James said. "This is where I raised my children.The last thing I want people to see is more marijuana. That's just not what this city needs. I embrace people wherever they are, but that is not what needs to happen at the entryway of the city of Ypsilanti."
Ypsilanti resident John Evans said he relocated to the city particularly because of its marijuana laws. Evans said he has a grow facility within his home that is regularly inspected.
"I love this town, it has character and charm and history," Evans said. "Right now we have the chance to take advantage of this new industry. I don't think we need a moratorium."
Valerie Brown-Tooson, an Ypsilanti resident, said marijuana is a drug and should be regulated as such.
"As much as it's identified as medical marijuana, it's a drug," Brown-Tooson said. "I'm totally against it being at the gateway of the Ypsilanti community. Coupled with the problems we already have in that area, to place something at the entry of Ypsilanti is an eyesore. That's not the flower or the vase we should present coming into the city."
Adam Tasselmyer, the founder of Herbal Solutions, said his business, along with the other five dispensaries, employs local residents and improved the look of previously unused buildings.
Ypsilanti resident Lee Tooson echoed the thoughts of several other residents who spoke against the addition of more facilities, saying it's time the city stop being the "dumping grounds" of businesses other communities within Washtenaw County don't want.
"I knew this kind of thing was coming because it has not stopped," Tooson said. "Ypsilanti as always been the dumping ground for things other places don't want. They dump it on the southside of Ypsilanti. We should be interested in the livelihood of our children and how is that going to affect them and their coming up. It's nothing but a legalized dope house."
The city has already adopted two ordinances, one regarding zoning of medical marijuana facilities and another determining the licensing process for medical marijuana dispensaries, growing facilities and home occupations.
The zoning ordinance outlines where dispensaries and grow facilities can be dispersed through the various business districts rather than clustered into one particular district. The dispensaries can also be located within business districts. Growing, smoking, or other uses of medical marijuana at a dispensary is prohibited.
Dispensaries must be 1,000 feet from a school and no two dispensaries or growing facilities can be within 500 feet of one another.
Katrease Stafford covers Ypsilanti for AnnArbor.com.Reach her at katreasestafford@annarbor.com or 734-623-2548 and follow her on twitter.