Posted on
Wed, Nov 3, 2010 : 3:38 a.m.
Voters approve new Ypsilanti District Library millage
By Tom Perkins
Voters in Ypsilanti Township, the City of Ypsilanti and Superior Township approved a new library millage.
Residents passed the .38-mill tax levy designed to help boost shrinking revenue for the Ypsilanti District Library by a margin of 57.6 percent to 42.4 percent.
The tax will generate $760,000 when levied in fiscal year 2011 and means the owner of a home with a market value of $100,000 will pay an additional $19 annually.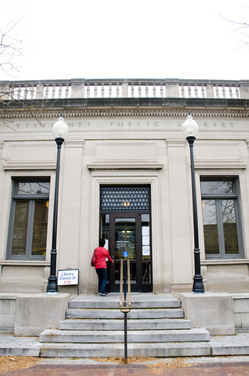 Library officials have said the Ypsilanti District Library is collecting less money from its current levy while its membership concurrently increases. That has forced cuts and affected the library's purchasing power.
The library collects 1.54 mills from the City of Ypsilanti, Ypsilanti Township and Superior Township. Those collections generated $4.2 million in 2007. But that figure has dropped to $3.8 million in 2010 because of declining property values, and projections show another decrease of 25 percent by 2013. The library will now collect levels closer to 2007.
The district library's funding situation is unique, library officials said. They said many people are under the assumption it is government-funded, but 92 percent of its revenues are generated from property taxes.
Library Director Jill Morey said state aid allowances continue to drop, money was lost because of the Headlee Amendment, interest on library accounts has stagnated and money collected from Washtenaw County court fines has declined. The library would have continued to draw from its fund balance, which would have been depleted by 2014, Morey said.
The library has seen an almost 400 percent increase in circulation since 2002 and loaned nearly 1 million pieces last year. The number of residents partaking in programs has doubled at the same time to 44,000 in 2009.
Morey said the YDL's situation is unusual because membership and usage has risen dramatically, while revenues have dropped significantly.
"This will help us maintain the high level of service we offer," she said. "Had the millage not passed, we would have been looking at cuts, and what this vote is saying is that people value the quality service that they've received and, of course, we will continue to provide that."
Library officials estimate 80,000 cards are currently issued. Library programs have become particularly popular with more than 40,000 residents participating in 2,118 individual classes and programs in 2009.
"This vote makes me think that people understand the value of their library," Morey said. "I know it's a sacrifice for people to add additional taxes. Like everyone, we expect the economy to turn around and we're going to live within our means, so this will help us do that until such time we do see an increase in tax assessments. And that's something that everyone in local government looks forward to."
Tom Perkins is a freelance writer for AnnArbor.com. Reach the news desk at news@annarbor.com or 734-623-2530.