Posted on
Fri, Dec 16, 2011 : 2:06 p.m.
Ypsilanti dreidel champion returning to New York City to defend title
By Tom Perkins
Cue the "Rocky" theme song.
Local dreidel champion Alan Black is heading back to New York City on Saturday to defend his title at the annual Major League Dreidel Tournament.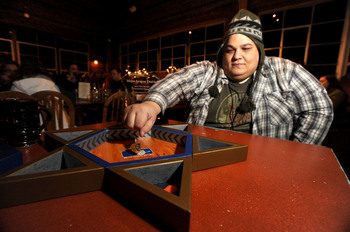 Angela J. Cesere | AnnArbor.com
Black, an unknown in dreidel circles two years ago, captured his first MLD title at Brooklyn's
Knitting Factory
in 2010.
But this year, he knows he goes to the tournament with a target on his back, and he says the pressure is on.
"I'm definitely nervous," Black said. "Last year there were no expectations and we were going to have fun, but this year I feel if I don't have a certain level of success then it will be bad. So there's definitely some pressure."
Black beat out 144 competitors to claim the MLD's fourth annual championship last year.
The game works by attempting to keep the dreidel spinning for as long as possible on the Spinagogue, which is the MLD's dreidel board. The walls on the board are brought in as the tournament progresses, leaving competitors with a smaller board and larger challenge.
After early qualifying rounds are over, 64 contestants enter the tournament bracket. Competitors face each other head to head, and a match consists of the best of two out of three games. A game consists of up to two spins. If a player doesn't like their first spin, then they can spin again, but they must use the second spin.
Players also must decide if they want to spin first or second, and they can try to psych out their opponent through several different measures.
"There's definitely some strategy to it," Black said.
A spin of 13 seconds is good enough to advance deep into the tournament, Black said, and he was spinning around 15 seconds with regularity last year. On a larger board, the world record holder recorded a spin of 17 seconds.
Last year's winning spin on an area Black estimated to be about 6 inches across was 12.81 seconds, which earned him a first-place trophy and a Spinagogue.
But a year of practice hasn't meant a year of improvement for Black. He says he still spins around 13 seconds and hasn't seen his average jump.
"I wish I could say I have, but I haven't noticed any improvement," he said. "I don't think I'm any better than I was last year, so hopefully that's still good enough."
But he added that he should be helped by automatically advancing past the qualifying rounds and holding a higher seed, which pits him against the worst spinners early on.
In 2009, Black had poor finish that he attributed to over practicing, so, like last year, he and his teammates have kept their practices to a minimum and are more laid back.
"We're pretty much keeping it casual," he said. "The first year we went nuts practicing entire weekends and hours and hours at a time."
But this year, he and other Team Smoot members are doing what they did last year - bringing their Spinagogue to the bar when they meet up for drinks and having a few spins.
Although dreidel is an individual sport, some participants travel in teams and support one another at the tournament. Ypsilanti resident and Team Smoot member Kurt Anschuetz advanced to the quarterfinals in 2010, and Team Smoot is represented at the 2011 MDL Tournament by more than 25 members from four states, though most are from Ypsilanti.
Black said the spinning is accompanied by lots of partying and fun, and Team Smoot got its start traveling to "rock scissors, paper" tournaments several years ago. The team is hoping to bring a dreidel competition, a "head or tails" competition or similarly odd tournament to Ypsilanti.
"I think Ypsi, with the kind of vibe it has, could work for something like that," Black said. "There are enough unique type of people that everyone might get into something like that."