Posted on
Wed, Jan 9, 2013 : 5:59 a.m.
Vacation time and pension reductions: Ypsilanti considers employee benefits changes to cut expenses
By Katrease Stafford
Non-union City of Ypsilanti employees hired after Jan. 1, 2013 will have reduced benefits packages that are expected to the save the city money in the coming years.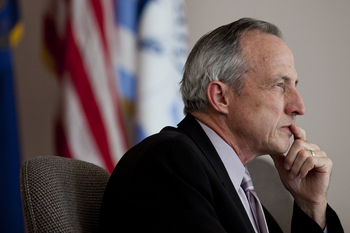 Non-union employees hired prior to Jan.1 would remain on the old plan, which has a pension plan with a multiplier of 2.5 percent and allows retirement at age 50 with 25 years of service.
A multiplier is used to determine the size of the lifetime annuity an individual with a pension will receive. It's usually expressed as a percentage of final compensation times years of service.
The new plan will have a multiplier of 2 percent and would allow retirement at age 55 with 25 years of service. This amounts to a 20 percent reduction in the multiplier in comparison to the previous plan. City Council unanimously approved the change.
"This is just one of the new changes in the benefits that (City Manager) Ralph Lange is making to allow this program to last longer without employer contributions," said Sallea Tisch, Accounting Supervisor.
Lange said legacy costs are a huge drain on the city and he's trying to set the foundation that would hopefully reduce those amounts.
"This isn't finished yet but we're going to work as hard as we possibly can to do that," Lange said.
The chart below shows several additional proposed benefits changes that council will consider at its Jan. 22 meeting: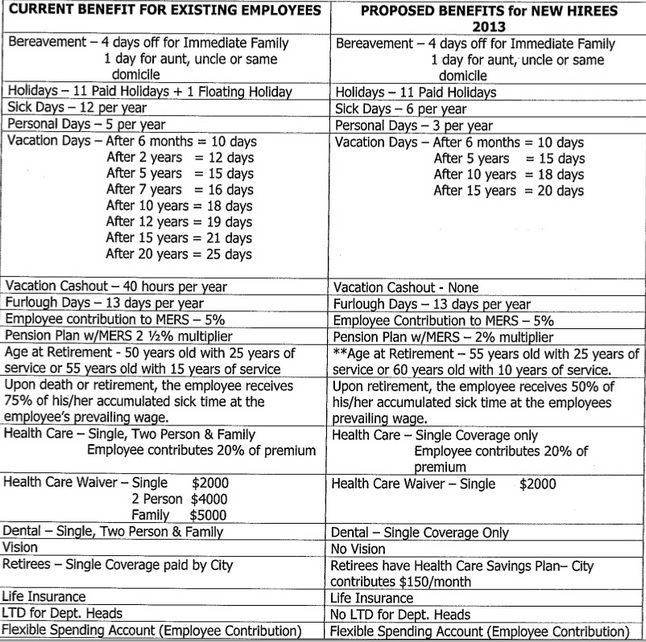 Courtesy City of Ypsilanti
"We have to be precise in who we hire and even more precise to keep the overhead down and get quality people," Lange said. "That's how we survive."
The city has seen a decrease in its staff levels. As of Jan. 1, the city has 81 full-time employees, six part-time and 10 interns.
In 2012, the city lost 15 employees who either retired or resigned. Altogether, those employees wages amounted to $1,030,374. Thirteen of those 15 employees were unionized employees from the police and fire departments.
The city has since hired four employees, three in police and Lange, who amount to a total of $218,705 in wages.
Lange said the next thing the city needs to tackle is the amount of overtime taken by city employees. Lange said the police and fire department had accounted for between $600,000 and $700,000 worth of overtime alone in previous years. Lange did not have numbers immediately available for non union workers, but said the overtime is a real "cash number item."
"Accrual of vacation and sick time are big time cost factors," Lange said. "Furlough days are a big item and I have the problem of how do I mesh people that are on furlough days and people that aren't."
One of the proposed changes to benefits includes no furlough days for city employees hired after Jan. 1. Those hired before have 13 days per year. Lange said he wants to "drive things forward" to get everyone on a similar system and back to working on the same amount of days.
"Because we're so thin on employees, every time someone is out for a sick day or a personal day or a furlough day, that generates overtime," he said. "So now, instead of trading time for money, you gave them time off… the amount of people we have is very finite and we will be in a very tight personnel position for the next 18 years.
"I'm trying to set us up so that we hire people we desperately need and also limit the time off we have so there isn't so much fill in time."
Lange said he is hopeful the changes will be cost effective, though the reward may not be immediate.
"We have to hire more employees, but you have to figure out how much each employee costs," Lange said. "Their cost is their pay, their benefits and their legacy costs. So some of this may not have full effect for 20 years until everyone is out of the system and they're now in another tier."
Lange said the city has some dedicated employees, but the city cannot continue to operate at the same benefits level.
"It's a very complicated item and you're talking about people that have been here a very long time that have been faithful," Lange said. "Certainly that needs to be rewarded and we still need to reward that, but we can't at the rate that we did in the past."
Katrease Stafford covers Ypsilanti for AnnArbor.com.Reach her at katreasestafford@annarbor.com or 734-623-2548 and follow her on twitter.