Posted on
Wed, Jul 17, 2013 : 1:01 p.m.
Proposed Water Street recreation center gets 6-month deadline extension
By Tom Perkins
Editor's note: An attribution error has been corrected in this article.
Ypsilanti City Council has granted the Washtenaw County Parks and Recreation Commission six additional months to complete plans for a proposed recreation center on Water Street.
That means the eight acres of Water Street designated for the facility will remain off the market for that time frame.
The property has not been on the market for the past 18 months after the city signed a letter of intent to hand the land over to the county. Council's intentions are for the county to construct a multi-level recreation center that would provide indoor and outdoor recreation activities and serve the county's east side.
Officials see the $12 million facility as a potential "anchor" development on the 38-acre Water Street property that will attract more development.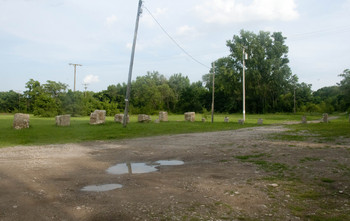 Tom Perkins | For AnnArbor.com
The council unanimously approved the extension, though Council Member Pete Murdock expressed his displeasure with the pace of progress.
When the letter of intent was signed in January 2012, the goal was to have a development agreement and several details — such as location, scale, style, terms of infrastructure construction, Brownfield remediation and price — worked out, but city and county officials have yet to do so.
"I'm getting a little bit tired and aggravated with the Washtenaw Parks and Recreation people," Murdock told City Planner Teresa Gillotti as she gave a presentation on the center. "It's been 18 months or more and and we're still at the same place we were in the beginning with design, infrastructure and site layout. We're no closer than when we started."
Gillotti said she would pass the message along.
During the last 18 months, the Parks and Recreation Commission has partnered with a University of Michigan design team to develop a series of conceptual plans and worked with the Ann Arbor YMCA to develop a market a study, which will be available soon.
Murdock said he recalled the project's proponents asserting there was demand when they pitched it and questioned the need for a market study this far along.
Gillotti said the next step is for the Parks and Recreation Commission to work out an operating agreement with the YMCA.
Location has been a sticking point so far, with Parks and Recreation Commission officials only wanting to build on the site's northwest corner. Several months ago there was some discussion as to whether or not the project was dead over a disagreement on location, but, in May, Ypsilanti City Manager Ralph Lange and Mayor Paul Schreiber reaffirmed their support to move forward on the northwest parcels.
At Tuesday's meeting, Schreiber still put his support behind the project.
"I'm not quite as frustrated. There are a lot of things involved and it's a complicated endeavor for both the city and county parks and rec," he said. "I think it's good to go at a deliberate pace."
Council Member Ricky Jefferson said he was pleased to see some information about the county working toward developing infrastructure, which was a first.
"The the most important thing to me is the infrastructure," he said.
The Parks and Recreation Commission will vote on the extension at their August 13 meeting. The city council unanimously approved the extension, though Murdock loudly grumbled before casting his "yes" vote.
Construction is expected to begin in 2015, after the commission's 10-year millage expires in 2014 is renewed.
The center would be nearly 60,000 square feet and would be much like Ann Arbor's Meri Lou Murray Recreation Center, which opened in 1991.
So far, only a Family Dollar has been approved for the Water Street property.