Ypsilanti fire department shift levels reduced from 5 to 4 as chief warns services could be impacted
Posted on Fri, Oct 26, 2012 : 5:58 a.m.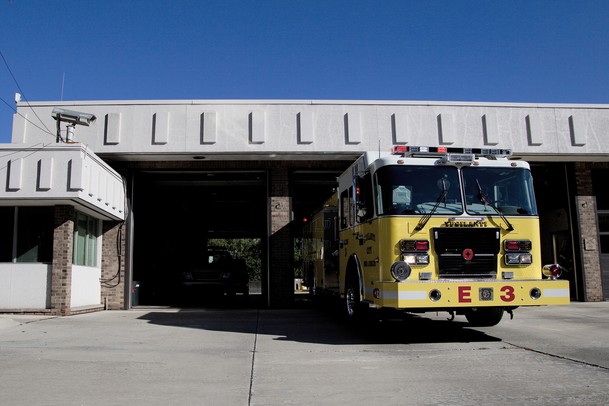 Jeffrey Smith | AnnArbor.com
The Ypsilanti Fire Department's staffing levels have decreased from five per shift to four and Fire Chief Jon Ichesco said the change may impact the fire services for residents.
City Manager Ralph Lange confirmed the change became effective Thursday.
"You can't keep delivering services with 15 people the way you do when you had over 20 people," Lange said.
The department has 18 employees, and by the end of the year, it will decrease to 15.
Occupational Safety and Health Administration regulations require that interior structural firefighting procedures provide for at least two firefighters inside the structure and two firefighters outside of the structure. The policy, commonly known as the two-in/two-out rule, became effective April 8, 1998.
It was implemented to prevent and decrease the number of firefighters who sustain injuries or die.
The change in staffing puts the department right at the OSHA requirements, which the department is required to meet.
The problem is, according to Ichesco, the change doesn't factor in when firefighters take time off. If that were to occur and there were only three or fewer people on each shift, firefighters are not required to go inside of a structure unless it can be confirmed that someone is inside of the building.
"By law, we do not have to extinguish a fire," Ichesco said. "... We would be like a smaller public safety department like Oak Park. Until someone comes, they watch it burn. I doubt my guys will do that. We're going to do what we can, but that's the nature of the beast. We're going to do whatever we can with the resources we have, but they're depleting."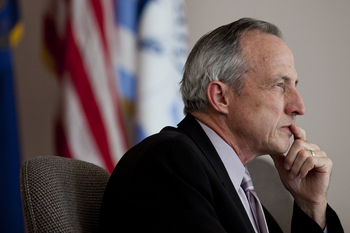 Ypsilanti Mayor Paul Schreiber said the city has tried for a long time to avoid cutting fire and police services, but it has now become inevitable due to a loss of revenue and rising costs.
Lange said the city asked voters for more money in the form of an income tax and debt millage, but was rejected in May. The tax and Water Street debt millage would have generated more income for the cash-strapped city.
"The community said loud and clear they had no more money to offer," Lange said.
The news comes nearly two weeks after AnnArbor.com reported Ypsilanti officials may consider a proposal to combine the city's police and fire departments into a single department of public safety. The proposal would cross-train firefighters and police officers.
"It's directly due to revenue," he said. "We've done everything that could have been done except cut public safety. Now we have to. We're still not balanced yet. Mr. Lange is looking at all the options."
Schreiber said the change was made to prevent the large amount of overtime costs incurred by allowing five per shift.
"The monetary fact is we will not be burning up so much in the budget," he said.
The city has about $7 million in reserves, but Schreiber said it's never a good idea to use those funds. The fire budget accounts for almost $2.5 million of the general fund budget.
"We have to try to stretch the money we have," he said. "We have reserves, but dipping... it's not a good strategy and won't last long."
Ichesco said what may happen is the city will see an increase in damages related to fires due to the change in staffing. In 2011, fire damage totaled $381,061 in property loss.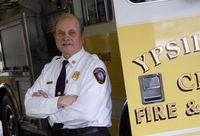 "We're going to have a lot of property loss," he said. "Far more than Mr. Lange or the mayor realizes. It will happen, I know. I've seen it in other departments. Your fires proliferate and what starts small is going to be a large fire."
Ichesco said he believes the rate of displacement could increase as well.
"It will displace people from homes," Ichesco said. "It could also displace businesses. Forty percent go out of business or move somewhere else after a fire. We've been successful in keeping what we have and we don't have a lot of commercial fires. We'll see what happens."
Ichesco said the department is going to go from running two trucks to one. In addition to this, the department will only use an one engine truck and the aerial platform fire truck, the largest one, will only be used if a large fire occurs.
"There are some ramifications to that," he said. "We will do one task at a time. Whether it's a medical or fire, we're going to have to figure that out."
In 2011, the department responded to 600 fire and 1,566 medical emergencies.
Of the 600 fire emergencies, 100 were for actual fires, 104 were rescues, 118 were false alarms, 30 were mutual aid assists, 33 were hazmat responses, and 79 were investigating hazardous conditions.
Of that 100, 51 were structure fires, with 45 being residential. The average response time was 3 minutes and 47 seconds.
Ichesco said that response time will change if the department doesn't have enough people on staff to respond because it would be forced to wait for mutual aid from a neighboring department. In addition to providing services to the city and Eastern Michigan University, the department also provides mutual aid to neighboring communities such as Ypsilanti Township and Ann Arbor.
The communities reciprocate the aid as necessary as part of the agreement. Schreiber said he isn't sure of the impact it will have upon mutual aid. The city provided 29 mutual aid runs to neighboring departments in 2011 and received eight in return.
"When it comes to fire it depends on how many calls there are," he said. "If there were one I'm sure we could go. "If there are two or three fires, it would stress the system. It's kind of a matter of probability."
"For us, everything we do is simultaneous," Ichesco said. "Everything has to be done in seconds... A fire itself will double in three minutes."
Schreiber also said it could result in a slower response time.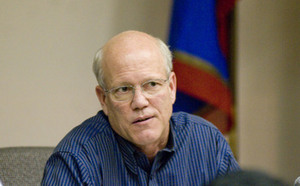 "That's just a reality of the situation," he said. "The buildings are more likely to burn faster. It's not something I like. I would like us to have a faster response which is why I supported the income tax, but they voted (against) it overwhelmingly 2-1."
When asked if he believes the rejection of the income tax by voters caused this to happen, Schreiber said it's a result of it.
"If we had more revenue, we would be having more people on staff," he said. "... Do I wish it were different? Yes. Do I support it (staffing reduction) because we have no other choice? Yes."