Posted on
Mon, Nov 19, 2012 : 11:57 a.m.
Ypsilanti Freighthouse to open in 2013 following $1M renovation project
By Katrease Stafford
The Ypsilanti Freighthouse will reopen in May 2013 following more than $1 million in renovations, the Ypsilanti Courier reports.
The renovations included a new roof, a rain garden and a new deck.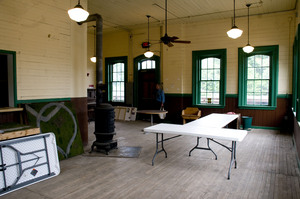 Tom Perkins | For AnnArbor.com
AnnArbor.com previously reported the renovation project was funded by donations, fundraising and grants.
The Friends of the Ypsilanti Freighthouse solicited grants and contributions from local foundations, one of which was a $15,000 grant from the MASCO Corporation along with $5,000 worth of equipment.
A public train route also is being planned to stop through the freighthouse. John McMillan, co-chair of Friends of the Ypsilanti Freighthouse, told the Courier a route may be utilized as early as 2014.
Six newly refurbished, bi-level commuter rail cars made their first test run from Pontiac to Jackson, passing through Ann Arbor, earlier this month.
The trains made a stop at Depot Town in Ypsilanti as well. If the cars passed the test, which is required to be cleared for service, the public could be invited to ride demonstration trains starting next year.
The freighthouse has been closed for nearly eight years and was once used for weddings, antique auctions, craft shows and weekly farmers markets in all four seasons.
Nat Edmunds, an Ypsilanti historian, told AnnArbor.com from the building's opening in 1878 until trucking lines popularized after WWII, Ypsilanti's factories shipped goods out of the 6,000-square-foot freighthouse to destinations as far away as Europe.
Read the full story here.