Posted on
Tue, Feb 28, 2012 : 5:58 a.m.
Ypsilanti High School students going to class more, getting into trouble less
By Danny Shaw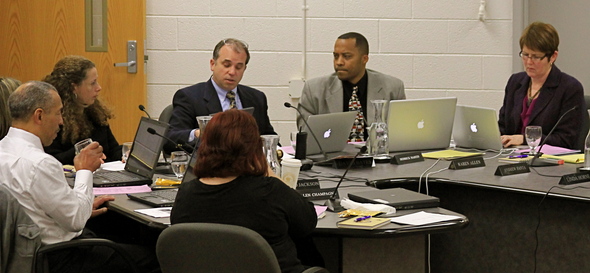 AnnArbor.com file photo
Ypsilanti High School
students went to school more, got into trouble less and failed fewer courses during their first semester this school year, according to Principal
Rob Belous
.
For the first semester of 2011, student discipline referrals were down 51 percent compared to the first semester of 2010, Belous said at Monday's Board of Education meeting. Students receiving failing grades in courses were also down in 2011 with 198 failing grades compared to 263 in 2010.
"This is something I'm very proud of," Belous said. "I'm very satisfied with the progress we've made, and we hope to continue upwards for the remainder of the school year and beyond. We have a lot of work to do still, but this is a great start."
Students are also showing up for school more often than last year as well. The attendance rate increased to 89.5 percent, up from 81 percent for 2010's first semester, Belous said.
Superintendent Dedrick Martin said he is happy to hear more students are attending classes and staying out of trouble, but wanted to remind the community it's the first of many steps toward a permanent improvement.
"When you talk about true reform, it's a three- to five-year process before you really see results," he said. "Mr. Belous and the teaching staff have done a phenomenal job so far, but there's more to be done. But we can tell a difference in the overall culture, environment and safety within the building."
Even staff members showed up for work more in 2011, Belous told the board. Staff members missed 415 total days during 2010's first semester and 277 in 2011- that's something he said leads to higher student performance.
"Substitutes are great, but having the full-time teacher there as much as possible is essential," Belous said. "We can't teach students if they're not in the seats."
Belous, who started as principal in June, said the positive changes can be attributed to the hard work of the teachers and staff, and a new outlook within the school.
"I really have three rules: be respectful, take responsibility for what you do, and if you do something wrong, make it right," he said. "If students are willing to do that, then we've changed the culture of issues within the school."
He said when trying to turn around a school's academic performance, he thinks the starting point is helping to better behavior and attendance.
"I've set some lofty goals," Belous explained. "I'm proud of the teachers and staff, but I'm also the biggest critic. My goal is simple, I want to see 100 percent of students graduate on time and 100 percent of them to be prepared for whatever comes after."