Posted on
Wed, Aug 21, 2013 : 5:56 a.m.
Ypsilanti moves forward with proposed streetlight fee at reduced rate
By Tom Perkins
Ypsilanti is one step closer to charging a fee to property owners to pay for the conversion of its streetlights to LED lighting.
The city would do so through a special assessment district put in place for the next two years.
That means residents will pay $58 each of the next two fiscal years, which will cover the cost of converting around 1,189 streetlights to LED lights. That breaks down to under $5 a month, though the fee would be assessed once annually.
The switch to LED lighting is expected to save the city around $115,000 annually by reducing the cost of running them from $515,000 to $400,000.
The council unanimously approved resolutions ordering the district and directing the assessor to create a special assessment roll for it. Another public input session will be held on Sept. 3, at which time there will be a first reading of an ordinance for the district.
If the proposal is approved, it would show up on the winter tax bill.
At an Aug. 6 meeting, residents blasted a prior plan under which property owners would have paid $100 the next two years and seen that fee and decrease over the next 18 years to $67 annually to cover the lights' electric bills.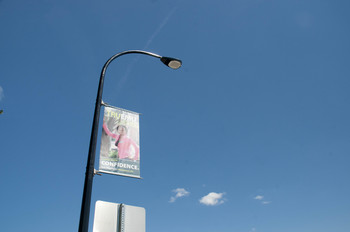 An LED Streetlight in Ypsilanti
During a public input session at the Aug. 20 meeting, several residents still spoke against the proposal and questioned why the city is spending money on replacing streetlights when Prospect Road is crumbling.
There was also confusion over whether or not the city was still proposing charging fees for the next 18 years because the city mailed out literature outlining the previous plan.
"This is for two years, not 18," Council Member Susan Moeller clarified. "And it is not $100 but $57 per (property)"
She and several other council members also addressed concerns over Prospect Road.
"I know there are issues with the road, but I think Prospect is the next to be fixed on the list," Moeller said.
Council Member Dan Vogt noted that money for road repairs don't come from the general fund, which is where the savings for the streetlight replacement will be found.
"This pays us back. In five years we will have been paid back the $555,000 and in 10 years we will have saved $1 million. Streets don't pay back," he said. "This is a money-saving proposal on a big-time scale. I know there are short-term issues for all of us, but we have to look at the long term when we are talking about saving money like this."
The proposal has costs for conversion to LED divided equally and assessed among 4,812 of the city's 4,951 parcels. EMU is exempt because of legal precedence that says universities aren't subject to special assessment districts. The city's properties are also exempt.
Mayor Paul Schreiber noted that the switch will reduce the city's carbon footprint and reduce the amount of required maintenance.
"You get a lot of good things out of this ... and it makes us more efficient," he said.
The unanimous vote received mixed reviews from those residents in attendance.
Ypsilanti resident Dr. Ernest Terry said he was disappointed with the vote and said Ypsilanti already pays a higher tax rate than those in surrounding communities.
"Council asked citizens about an income tax twice they soundly said no; you asked about Water Street millage, and they said no. It seems like regardless of that you are determined to find a way to charge people more, and that's very disappointing," he said.
"I think it's a very good move for our environment and for our pocketbook and I thank you for that," said Ypsilanti resident Jan Katz.