Posted on
Tue, Feb 26, 2013 : 5:57 a.m.
Ypsilanti forms committee with Ypsilanti Township and EMU to find ways to combine services
By Katrease Stafford
The city of Ypsilanti, Ypsilanti Township and Eastern Michigan University have created a joint committee to explore ways to collaborate and combine services in an effort to become more efficient.
City Manager Ralph Lange said the collaboration potentially could save money as well as open the doors for state funding in favor of communities who collaborate together.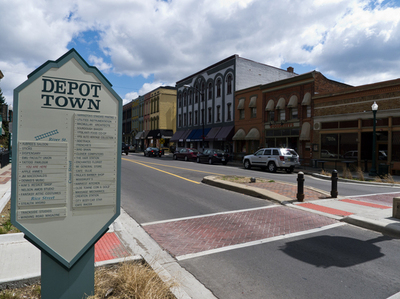 Steve Pepple | AnnArbor.com file photo
"We want to become more efficient and the state is urging us to have these collaborations or innovative ways to save money," Lange said.
The financial incentive to collaborate stems from the funds the city receives through the state's Economic Vitality Incentive Program.
The three categories for the EVIP funding are accountability and transparency, consolidation of services, and employee compensation. Each eligible city or township must submit a certification form and required attachments for each category to qualify for the payment.
According to the state's 2013 list, Ypsilanti is slated to receive $301,158 for the consolidation of services category and the township will receive $144,154.
Altogether, Ypsilanti will receive $903,474 in EVIP funding and the township will get $432,462.
"We can't afford to lose any of this money," Lange said. "... You can get credits for consolidation or working with your neighbors."
Working with neighboring communities has been a priority of the city, but in order to prioritize what's targeted for collaboration, Lange thought the committee might be the best way to eliminate any possible confusion.
Each will create a list of priorities, which will then be whittled down into a list that everyone agrees upon.
"It kind of streamlines the process and explores how many collaborations are out there," Lange said. "To earn EVIP, you have to come up with new collaborations. That's a lot of money for us to lose by not meeting that requirement and that requires a lot of innovative and collective collaboration. There's certainly a lot of advantages to working intergovernmentally."
Ypsilanti will be represented by Council Member Daniel Vogt and Lange; Ypsilanti Township will be represented by Supervisor Brenda Stumbo and two Board of Trustees; and EMU will be represented by Executive Director of the Office of Government and Community Relations Leigh Greden.
"EMU works closely with the city and township on public safety, road, and park issues, and we're pleased to explore additional opportunities," Greden said.
More communities could be brought into the committee, but Lange said he wanted to start the committee off small.
"The collaboration that makes most sense is Ypsilanti, EMU and Ypsilanti Township," Lange said. "We kept it to a small group, not that we wouldn't collaborate with Ann Arbor, but we're so close and intertwined."
The committee has not formally met and that may take place in the next three months, Lange said.
"We'll be very busy on the budget process and finishing other work, but we're going to try to get to that as soon as possible," Lange said.
The city already has collaborated with EMU, when it provided street sweeping services. Lange said the next collaboration could be for the three to figure out the public transportation issue.
"That's a big one," Lange said. "Another one on the horizon, a year or two out, is all of our trash collection contracts are going to expire at the same time."
Initially, the committee's findings will not be made public at a meeting, but at some point, Lange said they would each go back to their respective jurisdictions to get feedback.
Katrease Stafford covers Ypsilanti for AnnArbor.com.Reach her at katreasestafford@annarbor.com or 734-623-2548 and follow her on twitter.