Posted on
Wed, Apr 24, 2013 : 5:03 p.m.
Ypsilanti approves resolution requesting to become part of AATA
By Katrease Stafford
The city of Ypsilanti is one step closer to joining the Ann Arbor Transportation Authority, after city council passed a resolution Tuesday night in support of requesting membership.
Council Member Pete Murdock brought forth the resolution that was passed unanimously, with Council Member Daniel Vogt absent.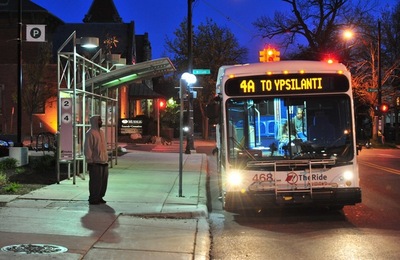 Ryan J. Stanton | AnnArbor.com
"We recognize the value of public transportation to our economy," Murdock said.
"But we've been having difficulties as we have with everything else and have gone through various attempts to provide that. We've reached the position where the way to move forward is to have the regional authority.There is interest in other communities in becoming part of a transit authority and it just seems to us it's time to get the discussion seriously going."
Schreiber requested City Clerk Frances McMullen send the resolution to the Ann Arbor City Council. The resolution also will be sent to the AATA for consideration.
Mayor Pro Tem Lois Richardson said the request is "long overdue."
"When I first started on council, I tried several times to drum up interest," Richardson said.
Mayor Paul Schreiber said the request comes at the right time, as the AATA looks to strengthen its "urban core" of transit users.
In 2010, Ypsilanti voters overwhelmingly approved a 0.9789 transit charter millage by a 3-1 margin, reinforcing the need and want for transit in the Ypsilanti community, Schreiber said.
"I think this is a great move and not only that, it's really the only move we can make," Schreiber said.
Katrease Stafford covers Ypsilanti for AnnArbor.com.Reach her at katreasestafford@annarbor.com or 734-623-2548 and follow her on twitter.