Posted on
Thu, Nov 15, 2012 : 2:08 p.m.
Ypsilanti pastor challenging law that limits political speech of religious leaders
By Katrease Stafford
An Ypsilanti pastor will file an appeal Friday after two courts dismissed his case to challenge a Michigan law that restricts what religious leaders can say about politics, according to the Detroit Free Press.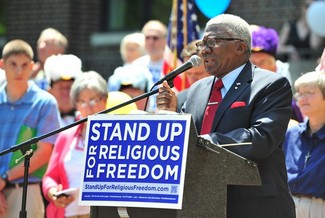 Ryan J. Stanton | AnnArbor.com
The Rev.
Levon Yuille
, a conservative Christian, filed a lawsuit against Michigan Attorney General
Bill Schuette
last month citing fear his right to speak about politics with his church members and others could be affected by the law, according to the report.
The Michigan Election Law, enacted in 1954, states that any pastor or religious officer "shall not for the purpose of influencing a voter at an election, impose or threaten to impose upon the voter a penalty of excommunication, dismissal, or expulsion, or command or advise the voter, under pain of religious disapproval."
Schuette told the Free Press the law has not been enforced for a long while and U.S. District Judge Gerald Rosen ruled two weeks ago that the case has no legal standing. The U.S. 6th Circuit Court of Appeals agreed with Rosen.
Yuille is the pastor of the Bible Church in Ypsilanti located at 611 E. Cross St. He has been active in a number of causes, including rallying for religious freedom and opposing a hate crime law he said infringed on his First Amendment right.
Read the full story here.