Posted on
Sat, May 11, 2013 : 5:58 a.m.
Ypsilanti resident launches Michigan pride website Mitten Stretcher
By Katrease Stafford
Courtesy Mitten Stretcher
Do you have Michigan pride?
If so, an Ypsilanti resident has launched a new website, Mitten Stretcher, with a social networking component for Michiganders near and far to connect and promote community pride.
"I'm a lifelong Michigander and while spending time all over the state, I realized that people from here are a little bit different than other places," Mitten Stretcher founder Mark Serra said. "People are so proud and with a lot of the ups and downs we've seen, it's nice to see a lot of the positive things happen. I just wanted to be a vehicle to showcase those things."
Serra said he started formulating the idea for the website, which launched April 29, about two years ago.
"The idea really started about two years ago and we kind of put the pieces together and started to take this thing from an idea to something real," he said.
Serra's website was designed to connect individuals who live in Michigan, as well as those who may have moved out of the state and are still interested in following what's going on here.
For those who no longer live here, Serra said the site has a component called Mitten Pride Worldwide, that features people originally from Michigan.
"I was thinking there are so many people that had to leave the state of Michigan for some reason, job or economy, but they're still proud to be from here and they don't get the opportunity to see all of the good things happening here," Serra said.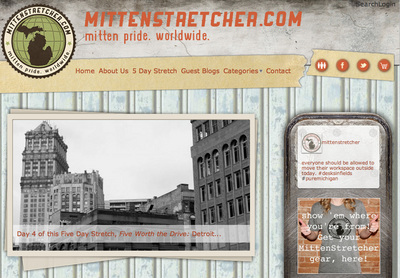 Courtesy Mitten Stretcher
Serra said the site promotes Michigan pride, tells the story of the communities in the state, and pushes for continual development and progress.
"We're trying to capture positivity from all regions," Serra said. "We think southeast Michigan is powerful."
The social networking component of the site, Mitten Stretcher Community, which will soon be rebranded as Mitten Connect will allow people to actually get in touch with each other.
"I think it's more valuable than just telling the story," he said. "People are always looking to connect on common bonds they may have. People are trying to connect more meaningfully now and that Michigan tie, I thought it would be valuable to use that. This is a reminder that the door to Michigan is always open."
In line with keeping everything local, Serra had VC Web Design, an Ypsilanti company, design the website.
"I made the decision to work with VC Web Design after having several conversation with companies and individuals who do this stuff and they understood it better than anyone," Serra said. "We've had a great experience with working with them."
Later this year, Serra said his company will become official corporate partners with the Eastern Michigan University Athletics Department.
"We're very excited about what's happening and what's going to happen," Serra said. "I think this thing can grow in ways that we can't even imagine right now."
Katrease Stafford covers Ypsilanti for AnnArbor.com.Reach her at katreasestafford@annarbor.com or 734-623-2548 and follow her on twitter.