Posted on
Sat, May 29, 2010 : 4:30 p.m.
Ypsilanti's Roosevelt High School graduates celebrate 60-year reunion with tours, parties
By Ronald Ahrens
The 16 Roosevelt High School graduates celebrating their 60th anniversary this weekend in Ypsilanti never even had a proper reunion until 2000.
That year, the Class of 1950 finally went all out for its 50th anniversary.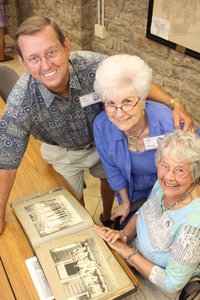 Ronald Ahrens | for AnnArbor.com
By the time this year's 60th anniversary rolled around,15 class members had died, and several more couldn't be accounted for by reunion organizers. Others were not able to travel for this weekend's get-together. The class members are now in their late 70s.
"I'm amazed at the health of all those who are here," said Joanne Durant Hertler, who helped with the task of organizing.
The class numbered 50 students when its members graduated from Roosevelt.
Now known as Roosevelt Hall on the Eastern Michigan University campus, the school was a teaching laboratory for education students at what was then called Michigan State Normal College.
Roosevelt School closed in 1969 after changing trends resulted in the elimination of university-maintained laboratory schools.
Many of the Class of 1950 attended Roosevelt from kindergarten through 12th grade.
"Our parents knew each other," said Hertler. "We were very close."
Despite the small class size, the Roosevelt boys' athletic teams vigorously competed in football against Saline, Dundee and University High School of Ann Arbor, among others.
Jerry Leland won the boys' Class C state championship in the mile run for Roosevelt.
All these years later he proudly remembers clocking a 4:27.8. (The Michigan High School Athletic Association remembers differently, stating his time at 4:36.3.)
Hertler said many Roosevelt graduates went into education themselves.
Sylvia Obenauf Taylor, now of Willis, completed a doctorate in botany and helped to plan the landscaping for expressways around the state, Hertler said. Taylor was unable to attend the reunion.
Another class member, Mary Brown Kimbrough, was the daughter of MSNC's legendary dean of men, Bingo Brown. Kimbrough became a scholar of French naval history.
Some traveled from as far away as Bethesda, Md., and Akron, Ohio, to attend the reunion.
Activities included a Friday-night kickoff party at the Plymouth home of Jim and Betty Delp Johnston, who were high-school sweethearts at Roosevelt.
The group then met Saturday morning at the Ypsilanti Historical Museum and ventured out to such attractions as the Automotive Heritage Museum and the Michigan Firehouse Museum. Class members then planned to attend a Saturday-evening dinner at the Polo Fields Washtenaw Country Club.
Breakfast on Sunday morning at the Johnstons' home will give the group the chance to say farewell.
No one mentioned looking ahead to a 70th reunion.
"We're thinking from now on we should just do one year at a time," said Peggy Heater Julien.