Ypsilanti school board finalizing deficit elimination plan with no cuts to transportation, athletics
Posted on Tue, Jan 18, 2011 : 5:58 a.m.
The Ypsilanti Public Schools Board of Education is inching closer to finishing its state-mandated deficit elimination plan.
The latest draft of the plan was discussed at a committee meeting Monday night and aims to cut an anticipated $26 million over the next five years. It includes reducing the ranks by five teachers over the next four years, eliminating student monitor positions, contracting with private companies for custodial services and food service, and district-wide concessions of about $9.8 million in 2013.
Other measures in the latest draft include $420,000 in savings from not having custodial health care, eliminating student service coordinators and getting health care concessions from central office staff. The plan also calls for fully funding the athletic subsidy and transportation costs from the district's general fund — two areas the board previously considered cutting from the general fund.
All of those measures should allow for a fund balance of $1 on June 30, 2015, said David Houle, chief financial officer for the district.
"We have to go through a process to show the Michigan Department of Education that we are diligently working and understand the fact, as a board, that we appreciate the fact that serious initiatives are put in place," he said.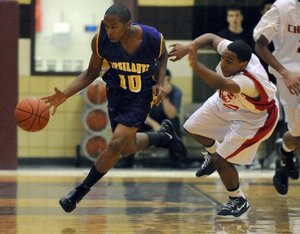 File: Lon Horwedel | AnnArbor.com
Trustee Andy Fanta asked Superintendent Dedrick Martin to check into getting another extension on the deadline for the plan. The district has to submit its plan to the state by Jan. 25 after getting a six-week extension from the original Dec. 15 deadline. Martin said another extension wasn't likely, but he would check Tuesday morning.
At the Jan. 10 meeting, board members discussed eliminating funding for athletics and transportation from the general fund. Board members also talked about repurposing Ypsilanti Middle School and moving the seventh and eighth grades to Ypsilanti High School — a plan the board didn't appear inclined to support.
Board members who attended Monday's meeting said eliminating athletics funding and transportation funding wasn't possible because students would likely leave the district.
Fanta said the decision to retain funding for transportation and athletics would leave Ypsilanti as a full-service district and help give it some identity.
"This is not something new to the school district but, in light of this, maybe this is something we can discuss," he said. "What kind of offering do we want for our students? I'm a supporter of band and performing arts — is art something we wish to be known for as a district?"
The draft of the plan assumes enrollment will stabilize at the current level of 3,657 students. Enrollment is key to funding since each district receives a per pupil allotment from the state.
Houle had originally projected a decrease in enrollment, but board members asked him to replace that assumption with stabilized enrollment. He said the plan would still be in good shape for next school year, but any drop in enrollment after that could be devastating.
Board members said the district would have to get out in the community to make sure parents keep their children in Ypsilanti schools.
"The best thing that can help us is getting more kids in and keeping every kid that's here, here," Martin said.
Board president David Bates said part of that work includes keeping athletics and transportation, showing the district is committed to providing vital services.
"We couldn't think we're going to keep all of our students without providing some of the things some of our kids, quite frankly, come here for," he said.
Ypsilanti Education Association President Kelly Powers took issue with a portion of Houle's presentation that showed central office personnel and principals would take greater cuts in salary and benefits than teachers. She called it an an unfair comparison and said the district should compare its teachers, central office staff and principals against those in other county districts.
She said the union would continue to work with administrators, but was concerned about the plan to privatize custodial and food services.
"I think we're taking some of that internal public and hurting them," she said. "If you hurt one of us, you hurt us all. We've been on the streets and sold it, we have to believe in it."