Posted on
Mon, Apr 29, 2013 : 5:21 p.m.
Ypsilanti and Willow Run teachers to be notified of job status Friday
By Katrease Stafford
Ypsilanti Public Schools and Willow Run Community Schools teachers will be notified Friday whether they will be offered positions in the consolidated district, Washtenaw Intermediate School District Superintendent Scott Menzel confirmed.
"It's very difficult," Menzel said. "It's emotionally draining for everyone involved. It's a product of having to make some very difficult decisions in order to address financial issues within both districts.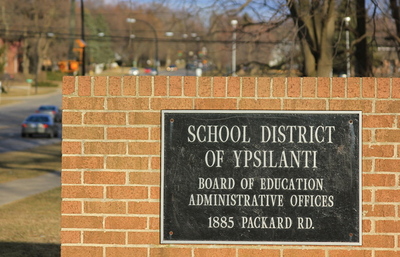 AnnArbor.com file photo
"We've got to start the new district with appropriate staff to provide a high-quality education. That's the balancing act and it makes it very difficult. There are many high quality teachers that invested a lot and while we're hoping to retain a fair level, there will be many that receive letters that say they won't be coming back in the fall."
Menzel said about 330 internal candidates applied for jobs, but he isn't sure how many positions will actually be filled. The names of the applicants who receive job offers, as well as those who do not, will not be released to the public.
Menzel said teachers, teacher consultants and special education teachers will be given letters at the end of the school day on Friday. Menzel didn't immediately have information regarding how many staff members currently work in the districts.
Menzel said the employees will receive one of the three following letters:
A letter stating the employee met the criterion and will be offered a position.
A letter stating the employee met the criterion, but the district does not yet know if a position will be available to them.
A letter informing the employee no job will be offered.
Teachers received layoff notices on April 12, which become effective June 30.
Menzel said a press conference will be held at 4:30 p.m. Friday, May 3 at the Ypsilanti Public Schools Administration Building at 1885 Packard Road. More information will be given at that time regarding how the decisions were made and the number of teachers who will be offered a position.
Menzel said officials also will discuss what support is available for individuals who aren't offered a position.
At a Feb. 28 meeting, Naomi Norman, WISD Director of Achievement Initiatives, said an employee assistance program was going to be put in place to help current employees who are not selected, to transition elsewhere. Norman said at the time that employees will be given career counseling and social-emotional supports.
Menzel said information will be provided for staff to help them prepare their resumes and find where jobs are posted in other areas, as well. Menzel said whenever there are "significant" layoff notices given, the experience can be traumatic for employees. He said a team has been meeting regularly to have the support system in place by Friday.
At that same meeting, Norman said external applicants will not be considered until the beginning of May and after the decisions have been made for internal candidates.
Menzel said he does not yet know at this point if any external applications will be accepted.
"Our commitment to the staff was that we would go through the internal applications first," Menzel said. "If we didn't fill all of the positions, then we would post externally."
High Quality Teachers and Teaching Selection Committees were put together, most consisting of an administrator, two teachers and in some cases, a parent conducted classroom visits and interviews March 18 through April 22, following a specific rubric.
Menzel said the decisions were made based off of the classroom visits, references, discipline records, valuations indicating whether the teacher was effective or minimally effective, as well as number of absences and other indicators as well.
Menzel said, while he knows the community may be inclined to offer support to those who did not receive a job offer, he urged everyone to be mindful of how delicate the situation is.
"Well-intentioned people could be really key or complicate the situation," Menzel said. "We have school on Monday, May 6 and we need teachers in the classroom. This transition is not easy and it's going to take everyone involved to help."
Katrease Stafford covers Ypsilanti for AnnArbor.com.Reach her at katreasestafford@annarbor.com or 734-623-2548 and follow her on twitter.