Posted on
Fri, Jun 28, 2013 : 3:18 p.m.
New district names Ypsilanti native as principal of Erickson Elementary
By Danielle Arndt
Ypsilanti native Aaron Rose has been named principal of Erickson Elementary School.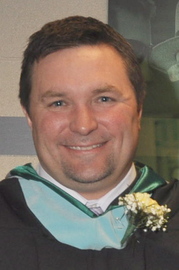 Rose previously was turned down for athletic director and a principal's position in the initial round of interviews for the unified
Ypsilanti Community Schools
district.
Erickson will remain a grades 2-6 elementary for the inaugural year of the district, which officially launches on Monday.
Rose bleeds Ypsilanti pride, according to a press release Thursday evening announcing his hiring.
He is a product of both the Ypsilanti Public Schools and Willow Run Community Schools. He spent grades K-7 in Willow Run and grades 8-12 in Ypsilanti. He obtained both his bachelor's and master's degrees from Eastern Michigan University and has spent his entire professional career at Ypsilanti schools.
"I'm very familiar with both educational systems and I'm looking forward to being part of shaping the new, unified district," Rose said in the release. "I've always wanted to be principal of an elementary school, and Erickson has an amazing history. This is an outstanding opportunity."
Rose spent nine years as an elementary teacher at the start of his career, before becoming a middle school algebra teacher. Most recently, Rose served as assistant principal of Ypsilanti High School.
Washtenaw Intermediate School District Superintendent and soon-to-be YCS Superintendent Scott Menzel said Rose will provide stability for students and staff in his new position at Erickson.
"Aaron was already a part of our leadership team, and we are looking forward to having him at the helm of Erickson," Menzel said in Thursday's news release. "Aaron is well known and respected in the community and will be an asset in his new role."
As a result of the merger, all staff in both Ypsilanti and Willow Run had to reapply for their jobs in the new consolidated district. Staff also could apply for multiple jobs.
Many Ypsilanti community members were upset when Rose was not initially retained by the new district.
The initial round of principal interviews took place in early April. There were five principals from Ypsilanti and one principal from Willow Run offered one of the building leadership roles in the new district, however, Rose was not one of them. The Erickson principal position was one of three building principal positions posted externally after the initial round of internal selections. Current employees of both Ypsilanti and Willow Run were encouraged to reapply if they did not receive a job offer in the first screening.
Rose also applied for the high school athletic director/assistant principal position at the new high school. The district later hired ex-NFL player and Willow Run High School graduate Lamanzer Williams to serve as AD.
Danielle Arndt covers K-12 education for AnnArbor.com. Follow her on Twitter @DanielleArndt or email her at daniellearndt@annarbor.com.