Posted on
Thu, Aug 29, 2013 : 5:58 a.m.
Ypsilanti schools prepare for first day of classes in new district of former rivals
By Amy Biolchini
Melanie Maxwell | AnnArbor.com
Sept. 3 will mark a day of firsts for the new
Ypsilanti Community Schools.
Not only is it the first day of classes for the 2013-14 school year, but it's also the first time the brand new district will house students from the merged former rival high schools.
The gold and black colors of the district — as well as the Grizzly mascot — have made their debut in the Ypsilanti community. Now, it's up to the students to make the new school identity their own.
On Wednesday morning, Ypsilanti Community High School at 2095 Packard Road was a flurry of activity in the steamy humidity of late summer. Students streamed in and out of the front door to register for classes, while teachers arranged their rooms and finalized lesson plans.
Staff have been working to paint over the purple and Phoenix mascots of the former Ypsilanti High School — though lockers remain a solid purple throughout the building.
The fresh start for the newly created school district comes with the addition of new staff, including a new principal for Ypsilanti Community High School, Justin Jennings.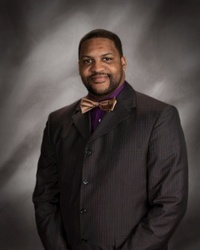 Courtesy
Jennings played on Purdue University's basketball team from 1992 to 1996 and has experience as a principal in several school districts in Michigan. He comes to Ypsilanti this year from his previous position as the principal of both Holland High School and Holland New Tech High School.
Jennings said his newness to the area will help him be forward-thinking because he's not familiar with the former rivalry between Ypsilanti and Willow Run—though he's noticed strong ingrained allegiances among some adults in the community that he's met.
Working to develop a new culture for Ypsilanti Community High School has been one of his primary objectives in his first three weeks as principal. Jennings has helped to oversee the merger of two districts in the recent past—Union High School and Grand Rapids Central in Grand Rapids.
"What we saw (in Grand Rapids) was the students being resilient and the adults not," Jennings said. "(The students) took right to it."
Jennings said that students will adapt to the merger and new school identity faster and easier than the community may expect.
"I don't think it's as big a deal as what adults think," Jennings said in an interview with AnnArbor.com Wednesday morning.
For students who played sports at Ypsilanti and Willow Run high schools, Jennings said adopting the new identity of a Grizzly won't be that difficult if their new teams are successful.
"Winning cures all," Jennings said, smiling. "A top-notch athletic team will cure that."
Administrators and teachers have created a completely new structure for classes and programs in the high schools that they hope intuitively will foster engaged students.
All students in Ypsilanti Community Schools will be in a small learning community that they choose. At YCHS, those programs include the STEMM—Science, Technology, Engineering, Mathematics and Manufacturing—Academy, and University High School, which tailors electives to the arts, humanities and logistics.
Teachers are excited about the kinds of engaged learning built in to the programs that has been shown to foster better performance from students. The merger of the two former districts by nature has created a larger student population for the new district—which means there's a greater number and variety of course offerings.
For example, Willow Run schools were unable to offer calculus classes because there weren't enough students that chose to enroll in the classes. Ypsilanti Community Schools is now able to offer calculus.
Scott Heister and Pam Vincent are small learning community leaders at YCHS. Heister, an engineering sciences and robotics teacher, leads the STEMM program, and Vincent, an English teacher, leads the University program.
Vincent comes to YCHS after 10 years at Ypsilanti High School, and Heister has taught for more than 20 years at Willow Run High School.
The programs in the new district will mean closer contact between teachers and students. In the STEMM program, Heister said every teacher will know every student by name and be able to greet them in the hallways—something Heister said doesn't happen at Ann Arbor's Huron High School where his son goes to school.
"Our goal is for every student to be involved with something after school," Vincent said.
Teachers in the new YCS district come from both the former Ypsilanti and Willow Run districts, as well as from outside the former districts.
This is the first year in Ypsilanti for Kim Garber, an engineering and manufacturing teacher that works in the STEMM program. She previously worked for 23 years as an engineer with Ford Motor Company and for three years at Kensington High School.
"The staff (YCS) has hired is wonderful," Garber said, noting that the team building activities that teachers have gone through in the past three weeks have helped build good bonds between teachers before the students arrive.
From her experience in the district so far, Garber said she feels the animosity between the former rival students is gone and anticipates that students will work well together this year.
Heister and Vincent echoed the sentiments of the principal regarding students being more resilient to the changing culture of the new district than adults in the community.
The former Ypsilanti-Willow Run rivalry is something Heister said he doesn't believe will be a big issue in the classroom and that he won't allow it to be a big issue.
"We're luckier than every other school district in the state because we get to push the reset button," Heister said.
Cultural traditions in both of the former school districts that hindered academic progress have been omitted, Heister said.
Keeping the pride of academic and athletic accomplishments gained at Ypsilanti and Willow Run schools, however, will be a priority, Jennings said. Trophy cases in the front lobby will feature awards from the old schools, and wearing varsity jackets from the former schools won't be discouraged, Vincent said.
Jennings said community involvement in the schools and its athletic programs will be a key piece to the district's success.
Amy Biolchini is the K-12 education reporter for AnnArbor.com. Reach her at (734) 623-2552, amybiolchini@annarbor.com or on Twitter.