Ypsilanti schools looking for more ways to cut deficit at special meeting Wednesday
Posted on Tue, May 1, 2012 : 5:58 a.m.
The Ypsilanti Public Schools Board of Education will convene Wednesday in a special meeting to tweak its deficit elimination plan and talk about additional mid-year cuts.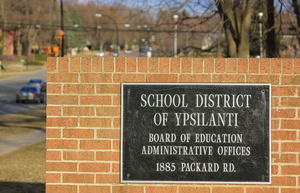 AnnArbor.com file photo
The meeting was called for 6 p.m. at the administration building in the Professional Development Room.
Ypsilanti was anticipated to have a combined two-year $6.38 million deficit at the end of the 2011-12 academic year. However in March, school officials said YPS is facing a deficit of about $9.4 million, including the district's original $4.9 million from 2010-11.
School board President David Bates said because the district's revenue is coming in under projections, the board must take a second look at the deficit elimination plan it approved in December and consider additional cuts.
Ypsilanti froze spending and issued mid-year staffing cuts in January to attempt to account for lost revenue. But February's projections made school officials realize another look at the budget and deficit elimination plan was necessary, Bates said.
Superintendent Dedrick Martin told AnnArbor.com in a previous interview that although the 2012-13 budget is not adopted until June, he hopes to trim the deficit as much as possible to help lighten the debt for next year.
Also on Wednesday's agenda is a closed session for the board to receive an update on the district's teachers' union negotiations. Bates said the union's contract expires in September.
Staff reporter Danielle Arndt covers K-12 education for AnnArbor.com. Follow her on Twitter @DanielleArndt or email her at daniellearndt@annarbor.com.