Posted on
Tue, Aug 20, 2013 : 5:51 a.m.
Ypsilanti seeks resident input on altered streetlight fee plan
By Tom Perkins
Ypsilanti residents will have a chance to voice their opinion on a modified plan to pay for the conversion of city lights to LED.
Previously the city council was considering a fee through a special assessment district that would cover the capital costs and require residents to pay the electric bill through 2031.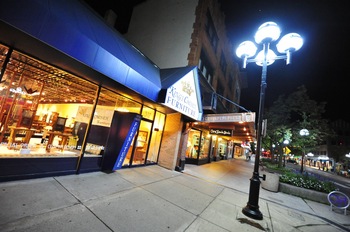 Ryan J. Stanton | AnnArbor.com
But at the last meeting at which City Council took up the issue, it changed that plan and is now only considering having residents pay for the cost of the conversion - approximately $555,000.
That means property owners would only pay around $58 each of the next two years instead of a fee that started out $100 and decreased over time to $67 annually.
City Council will hold a public hearing on the new proposal at its Aug. 20 meeting.
The switch to LED lighting is expected to reduce Ypsilanti's streetlight bill by approximately $115,000 annually, from $515,000 to $400,000.
The first plan had property owners paying that $400,000 and it would have bought the city another year of solvency.
The new proposal leaves the city to continue paying its streetlight bill, but it will still save over $100,000 annually.
Mayor Paul Schreiber previously said he was uncomfortable with the flat fee. The proposal had costs for conversion to LED along with operation and maintenance divided equally and assessed among 4,812 of the city's 4,951 parcels.
He also said at the time he wasn't sure residents should pay for their operation once the LED lights are installed.
Since the proposed plan has changed, he said he is interested in hearing residents' feedback, but is leaning toward voting for the new proposal.
"I think it's much better to be just covering capital costs and not operations," he said. "It is still going to affect the budget, but I think a lot of people didn't like it on principle rather than anything else as far as operations go."
At the Aug. 20 meeting, the council will take residents' remarks during a public input session. It will then vote on ordering the district and directing the assessor to create a special assessment roll for it.
There will be one more public hearing before final approval. If the proposal is approved, it would show up on the winter tax bill.