650 Ypsilanti residents may have received ballots without instructions
Posted on Wed, Oct 17, 2012 : 5:59 a.m.
Update: City Clerk Frances McMullen said she has mailed out letters notifying the 650 residents who possibly could have received ballots without instructions.
The city of Ypsilanti plans to send letters to 650 people who may have received absentee ballots without instructions, City Clerk Frances McMullen said Tuesday.
The city so far has received two complaints from residents who said they received ballots without marking instructions.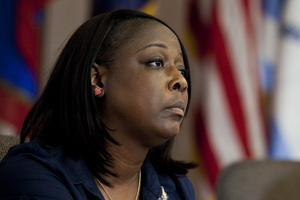 McMullen said former Assistant City Clerk
Felicia Rutledge
, was tasked with mailing out a batch of ballots between Sept. 24 and Oct. 2. An intern brought to McMullen's attention that she had not been told to place the instructions inside of the envelope, McMullen said.
Rutledge recently left to take a job within another city.
"What I'm doing is trying to catch that first run because those are the ones I'm not sure about," McMullen said. "Since the deputy clerk left, I've trained the staff so they know what to do."
In an email Tuesday afternoon, McMullen wrote that she will be sending instructions to the 650 people who received ballots before the staffing change. She said she would include a note asking recipients to contact the clerk's office for another ballot if they feel they have incorrectly marked their ballot.
"They can be issued another ballot," McMullen said.
The first complaint came from a resident who said he and an acquaintance received their absentee ballots about two weeks ago and noticed that no instructions were included regarding how to mark the ballot. The resident expressed concern over whether voters who haven't received the instructions could potentially invalidate their ballots by not following directions.
A second complaint came from another resident today, McMullen said.
"That's enough for me," McMullen said. "It could be all of those (ballots)... The most important thing is for the public to know they voted correctly."
To date, the city has sent out 1,013 absentee ballots.
In the past, directions were printed directly on the ballot, but legislation passed this May removes the instructions from the ballot and instead places them on a separate sheet that can be placed inside of the envelope or inside of a secrecy sleeve attached to the envelope.
The clerk's office can be reached at (734) 483-1100. Ballot instructions are also on the city's website.