Posted on
Thu, May 3, 2012 : 4:59 p.m.
Ypsilanti staff offers glimpse of budget without income tax and Water Street revenues
By Tom Perkins
Ypsilanti now has a snapshot of what its budget picture will look for the next two years if the proposed income tax and Water Street debt retirement millage are rejected by voters on May 8.
Among other immediate changes, the city would likely be forced to cut seven firefighters and four other employees, and would have to pull $620,000 out of its savings to cover its expenses.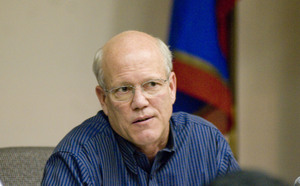 Tom Perkins | For AnnArbor.com
The city has around $10 million in reserves, but that will be depleted by the end of fiscal year 2014 because of payments to Water Street debt, transfers to cover general fund shortfalls and other commitments.
"We're dipping into reserves and cutting public safety at the same time," Mayor Paul Schreiber said of the proposed budget. "We already cut the police department quite a bit, and we really got nowhere else to go."
Interim City Manger Frances McMullan gave an overview of the city's budget in a presentation at council's May 1 meeting. No council action was taken.
It includes $12.2 million in revenues and $13.7 million in expenditures in fiscal year 2013. Revenues are down 2.6 percent from fiscal year 2012 and expenditures are down 5.85 percent.
Council will have three budget meetings throughout May. and there will be a first reading of the proposed budget on June 5. A second and final reading will be on June 19.
McMullan said the city has applied for a grant that could save six firefighter positions for two years, though officials aren't yet sure whether they will be awarded those funds. Wage reductions through furlough days also are set to continue.
The proposed budget includes a projected 6 percent drop in taxable value, which brings its cumulative drop in taxable value over the past five years to 33 percent.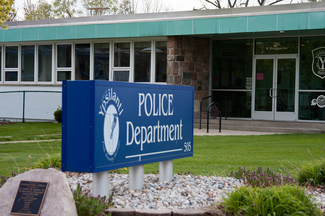 Steve Pepple | AnnArbor.com
Among new measures included the budget are switching streetlights to LED bulbs, which would save money over the long term, and setting up a special assessment district around city streetlights, which would generate extra revenue.
The budget recommendations also call for the city to reduce its general fund expenditures by $650,000, sell any extra assets and seek concessions from its unions during upcoming contract negotiations.
The city also will likely renegotiate post employment benefit packages to help control retiree costs. The police and fire pension millage is set to increase by 1.1 mills to 7.4 mills next fiscal year. That cost is expected to continue to balloon.
The city could also charge a stormwater utility fee, which has been discussed in recent months, without voter approval.
"The two-year budget doesn't have the things we're looking at over the long term," Schreiber said. "The cuts to the fire department is just one step, and the next step after that is more cuts, and what's next after that step down that road - hopefully we don't have to find out."