Posted on
Fri, Nov 9, 2012 : 5:59 a.m.
Money woes threaten 18th annual Ypsilanti pre-Thanksgiving dinner
By Katrease Stafford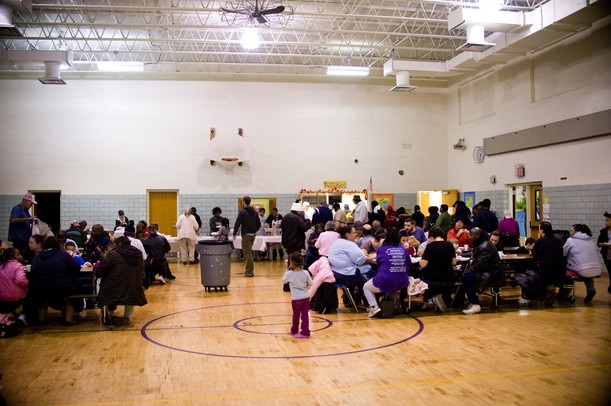 Joseph Tobianski I AnnArbor.com
A 17-year-old Ypsilanti holiday tradition is in danger of being canceled this year.
A lack of funds may prevent the serving of the annual Behavior Workshop pre-Thanksgiving dinner, organizer Tyrone Bridges said.
Bridges, who is a community activist and director of the Behavior Workshop, said event organizers are scrambling to gather funds for the dinner, which feeds hundreds of low-income families. He said it's been a struggle to put the dinner on for the past three years.
Bridges said Ypsilanti Public Schools, which owns the Perry Child Development Center, where the dinner is usually held used to waive all of the administrative fees, but no longer does.
Bridges said the district is charging $135 to use the gymnasium, $75 to use the kitchen and $84 for a food service worker. Bridges said the district is requiring him to get liability insurance,and the lowest quote he could find was about $312. Bridges said last year, he only paid $60 to the school.
Ypsilanti Public Schools Superintendent Dedrick Martin said in an email to AnnArbor.com that the district rates have been the same since 2008.
"As of today Mr. Tyrone Bridges has failed to show proper proof of insurance, and has not paid the fees associated with the use of the building," Martin said. "We do not discriminate against any organization that is interested in using our facilities as long as they abide by district policies and building use regulations."
Altogether, including what is owed to the school and food, Bridges said the event costs close to $1,000.
"I feel bad because every year I pay out of my pocket," Bridges said. "I feel like I would be punishing the public if I pulled it. I talked to (Superintendent) Dedrick Martin and he just wasn't hearing it. He said they couldn't waive the fees. We didn't expect to go through this many hoops."
He said he can't afford to pay for the dinner out of his own pocket every year.
Bridges acknowledged Ypsilanti schools has been a partner for many years and he understands the financial duress it is under as it begins to navigate the process of merging with the Willow Run. Bridges said he has turned his attention to reaching out to other community partners.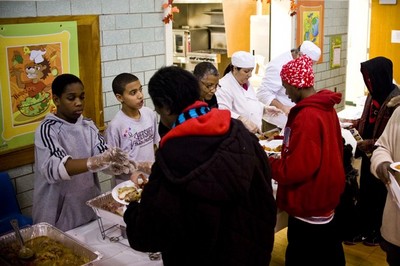 Joseph Tobianski I AnnArbor.com
"We're kind of stuck," Bridges said. "We don't want to look like the bad guys, but we need contributions."
Bridges said he looked at possibly moving the event to the Parkridge Community Center, but it wouldn't work because the center is not equipped with a commercial kitchen.
Bridges said the food has just about been covered by donations from Food Gatherers and once again, the Washtenaw Community College Culinary Arts department has agreed to cook all of the food free of charge.
"We get tons of food, but no cash donations," he said. "When you don't get cash it becomes a burden."
In previous years, the event has seen as many as 350 individuals and families come out for the dinner. Bridges said the number of people searching for meals around this time of the year continues to grow. Bridges said for the first time last year, a group home participated in the event as well as several children who attend Ypsilanti Public Schools.
"It's touching to see the faces of people grinning like they're opening a gift," Bridges said. "It's just like a family reunion with all hands on deck. It's a wonderful atmosphere and it's something to see."
The event is tentatively set for Nov. 15 from 4:45 p.m. to 7:45 p.m., and Bridges said he isn't sure if the district plans to set a deadline for when the funds are due.
"It's been a major necessity for the city," he said. "I'm pretty sure someone out there can help. We really don't want to pull the dinner. I'm caught between a rock and a hard place because I'm trying to keep it going."
Bridges said there are individuals who have attended every single year and he's afraid of the impact this would have on their morale as they continue to push through financial struggles.
"It allows us to give them all of the bells and whistles that they can't afford to purchase," he said. "This dinner needs to happen."
Across the city, other dinners and drives are being held for Thanksgiving:
Holy Trinity Student Parish in Ypsilanti will hold a community Thanksgiving meal at 11 a.m. to 1:30 p.m. in the social hall of the church, 511 W. Forest Ave.. The church is having a traditional turkey dinner. Contact: 734-482-1400.
SOS Community Services will be providing homeless families with a turkey this holiday season. Families had to be registerd by Nov. 1, but the food pantry will be open Tuesday, 10 a.m. to 6:30 p.m. Monetary donations can be made to the SOS Administration Office at 101 S. Huron St.. All food and items can be delivered to the Housing Center at 114 North River St., on Nov. 14 between 9 a.m. - 5 p.m.
Katrease Stafford covers Ypsilanti for AnnArbor.com.Reach her at katreasestafford@annarbor.com or 734-623-2548 and follow her on twitter.