Posted on
Sat, Jul 20, 2013 : 5:58 a.m.
City of Ypsilanti to buy homes, sell them to Habitat for Humanity to stabilize neighborhoods
By Tom Perkins
Ypsilanti will purchase two vacant, foreclosed homes it will next sell to Habitat For Humanity of Huron Valley for renovation.
At its Tuesday meeting, City Council unanimously approved the purchase of the properties for the minimum bid price at the Washtenaw County Treasurer's Office tax foreclosure auction.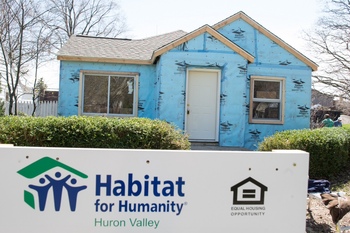 Courtney Sacco I AnnArbor.com
The city is able to pluck properties off the county foreclosure auction block before the auction happens under the right of first refusal law. Municipalities can purchase properties at the minimum bid if it's for the public good. In this case, the city is purchasing the homes for the purposes of reducing blight and neighborhood stabilization.
A home at 312 Garland St. will be purchased for $28,471 while a home at 1320 Collegewood St. will be purchased for $13,118.
The "First Look" program offered by the U.S. Department of Housing and Urban Development was once available to Habitat, but the sale of the homes to Habitat's residents wasn't happening quickly enough for HUD rules, so Habitat must turn to municipalities to purchase the homes it wants to buy.
The city is able to buy properties from the foreclosure auction at what is often far below market rates. The Garland and Collegewood homes have a state equalized value of $100,800 and $80,400, respectively. The homes only will be purchased if there is a commitment from Habitat to buy the properties, and the city will not sell them at a profit.
The properties will be tax exempt for two years or until Habitat completes its renovations, which Habitat Housing Director Rob Nissly said would be around one year.
Habitat will invest $91,000 in purchasing and renovating the Collegewood home, which will receive a new roof, new hardwood floors, energy efficient appliances, new doors, new counters, new cabinets, a high-efficiency furnace, new faucets and new insulation. All Habitat homes are highly energy efficient.
City Planner Teresa Gillotti said the advantage to turning the homes over to Habitat is that it prevents the properties from being purchased by a speculator who either rents or doesn't renovate the home.
"Normally we don't have control (of who buys foreclosed homes)," she said. "In this case we have an assured buyer being a homeowner and we know there will be improvements to that home."
Nissly said Habitat homeowners earn 30 percent to 60 percent of the area's median income and they take classes on home ownership and financial responsibility.
Those benefiting from their programs must put 200 hours of "sweat equity" in on working on the home.
Homeowners are then given a zero percent interest mortgage they must pay off, and they must demonstrate that they will be able to continue making mortgage payments. Homeowners also pay property taxes and insurance.
In Ypsilanti Township in 2012, Habitat residents contributed $157,000 to the township's tax rolls.
"This looks like a steal for the city - I'm looking for the downside," Council Member Dan Vogt said, though he supported the proposal after it was explained how the program works.
Council Member Ricky Jefferson praised Habitat's efforts.
"I like the way Habitat has come into communities and just changed the look completely and allowed people who couldn't afford a home afford a home for their families," he said.
Habitat has already completed two renovations on Garland and in Ypsilanti Township has completed 25 renovations in one neighborhood.
Ypsilanti Township recently purchased 10 properties under the same program.
Tom Perkins is a freelance reporter. Contact the AnnArbor.com news desk at news@annarbor.com.