Posted on
Tue, Feb 19, 2013 : 5:57 a.m.
Ypsilanti to consider restricting use of consumer fireworks
By Katrease Stafford
Complaints from residents have led the city of Ypsilanti to consider banning consumer fireworks on every day of the year, except on national holidays.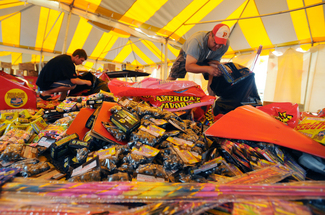 Melanie Maxwell | AnnArbor.com file photo
In 2011, the state passed the Michigan Fireworks Safety Act, abolishing the previous statewide prohibition against consumer fireworks.
"Since the passing of the act, many citizens have voiced concerns about the use of these devices," city attorney John Barr wrote in his request for a city ordinance. "These concerns relate to the frequency of use, the time of use, and the location of use."
Section seven of the state law allows municipalities to regulate the use of fireworks, but only for days that aren't national holidays or the day before and after one.
The law already has certain requirements and prohibitions relating to the use of consumer fireworks, including requiring permission from property owners, prohibiting sales to minors, and prohibiting their use under the influence of drugs or alcohol.
The city will consider adding language to its current fireworks ordinance making it unlawful to "ignite, discharge or use consumer fireworks within the City of Ypsilanti on any day of the year which is not a national holiday, the day before a national holiday, or the day after a national holiday.
The City Council is scheduled to have its first reading of the proposal Tuesday.
Council Member Ricky Jefferson said he and Mayor Pro Tem Lois Richardson received complaints from residents about fireworks being discharged year-round. Jefferson said fireworks are "blowing up" at all times of the day in the city.
"I was concerned and brought up the issue about the noise," Jefferson said. "It was going on all through the night, days after the Fourth of July."
In addition to deciding whether to change the ordinance, Council will discuss possible fees for violators, Jefferson said.
Katrease Stafford covers Ypsilanti for AnnArbor.com.Reach her at katreasestafford@annarbor.com or 734-623-2548 and follow her on twitter.