Posted on
Tue, May 21, 2013 : 5:59 a.m.
Ypsilanti to consider emergency moratorium on medical marijuana dispensaries and grow facilities
By Katrease Stafford
The Ypsilanti City Council will consider an emergency ordinance Tuesday to impose a moratorium on the issuing of permits and licenses for medical marijuana dispensaries and grow facilities.
Council member Ricky Jefferson and Mayor Pro Tem Lois Richardson have requested no additional permits and licenses be granted related to medical marijuana until city staff reviews the present density of licenses already granted.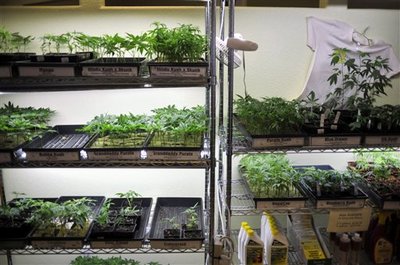 The Associated Press
In a request for legislation, City Attorney John Barr wrote that section 2.11 of the city charter allows for an emergency ordinance on first reading that could impose a moratorium for 60 days.
"I recommend a moratorium on permits and licenses for medical marijuana until staff can review (the) matter and make recommendations," Barr wrote. "I recommend that council consider and pass such an ordinance."
Bar noted a four-fifths majority vote of the council members present is needed for passage.
Richardson suggested the moratorium during the March 19 council meeting, stating she received a lot of complaints from residents.
There are six licensed dispensaries in the city of Ypsilanti and one of them is undergoing a renewal process. According to city staff, there is an application in process for a new dispensary to open.
The city has one licensed grow facility and two grow facilities in the application process.
"For a city our size to have six, I think that's ample," Richardson said at the time.
Jefferson told AnnArbor.com the last three of four applications for a dispensary or grow facility have been for locations within Ward 1, the ward he represents.
Jefferson said the recent openings have resulted in a growing number of complaints and suspicions from residents that Ward 1 is "being targeted."
"Those complaints are coming from a ward where 83 percent of its voters helped to pass the medical marijuana bill into state law," Jefferson said. "We're not advocating a ban; our concern is the density of these facilities in our area of the city where we already have a number of social issues is not fair. No other ward in Ypsilanti can compare with Ward 1 in having the same density of these facilities."
Mayor Paul Schreiber said he's not certain yet how he's going to vote on the emergency ordinance.
"As far as the ordinance itself, I don't know," Schreiber said. "I really don't feel strongly one way or the other. I'm getting comments from both sides from people that want to see them (rules) loosened and tightened."
However, Schreiber said the city does have it's "share of dispensaries," citing the reason was because the city overwhelmingly voted three to one to have medical marijuana facilities in the city.
"I'm interested in hearing an update from Ms. (Teresa) Gillotti and where she sees things going," Schreiber said. "From there, council can make a decision. I think an emergency ordinance as a moratorium would take quite a high sense of urgency that isn't quite necessary."
Jefferson noted the legal use of marijuana for medicinal purposes in Ypsilanti and in Michigan is a "great victory" for those who suffer from a variety of medical conditions and are experiencing relief and said the city has been supportive so far.
"Council is very accepting and accommodating in the city ordinance with regards to having this type of business in the city, but now that the ordinance has been put into practice, the issue of density is of great concern because of the chance of crowded conditions," Jefferson said. "The moratorium will grant city council time to review the ordinance to determine if there is cause for amendments.
I'm asking council to revisit and review the city ordinance to show accountability to the welfare of the residents I represent, who are concerned that there are too many facilities. I'm in no way seeking a ban. That would be against the will of the people."
The City Council will meet Tuesday at 6 p.m. at Ypsilanti City Hall.
Katrease Stafford covers Ypsilanti for AnnArbor.com.Reach her at katreasestafford@annarbor.com or 734-623-2548 and follow her on twitter.